Da Bomb!
So ever since the Magic 8 Ball of last year, I had been looking for a costume for this year. I wanted something that would express all the personal growth I had cultivated the sensitive inner nature I had been getting in touch with, & the kinder gentler 'Deep my 31st year was bringing.


So of course I went as my truest self - Da Bomb!

What's the big deal about having a few explosives around the office?
The Day
One of the best things about Halloween 2000 was that I wore the costume all day & went to work, rode Muni, went to lunch etc etc. People loved it & well... Ok so I am a sucker for attention
(It is ALL about me!)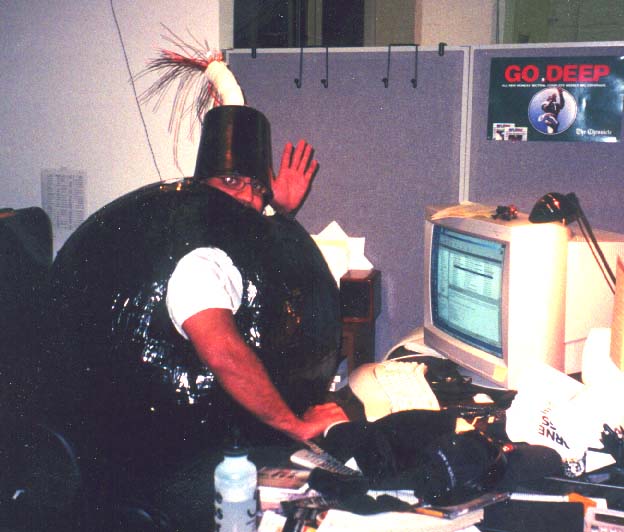 Bombs have a hard time writing stable code


The Night!
So we made it to the Castro & a party that night - I had great time hanging with mis amigos - esp. Peat who was a dead on Harry Potter.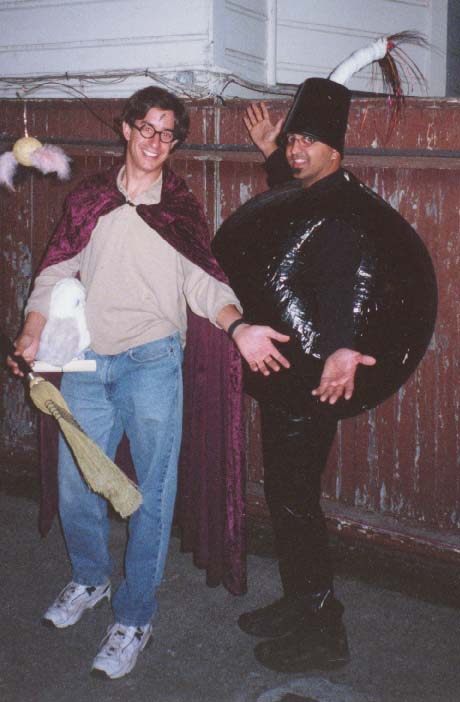 Note Harry's attention to detail including lightning bolt scar, a snitch & Hedwig the owl...

We had MUCH fun roaming the Castro & were quite the hit - this woman asked if she could come up & kiss my tummy - how could I refuse?


A fan trys to get me to "explode" - being that this is a family show - I can only say she had the right idea....

My favorite costume of the night was Ginger from Chicken Run!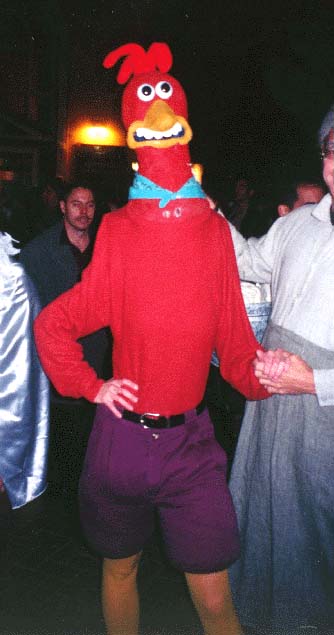 The guy made the head himself out of paper maiche....



Why & How?
Well last year - I had the idea of making either the Magic Eight Ball or Da Bomb & since I was kinda disappointed how the Eight Ball looked - I spent all year thinking of better ways to make big black spheres. Yeah, I'm a costume geek - whatever!
I think my friends were more impressed with last year's, but I was much happier with this year's - it looked a lot more like what I had set out to do than last year's.....
Anyway, I made the bomb by blowing up a big balloon & the covering it with paper maiche. The hat/fuse was a paper bucket & toilet paper tubes & these colored japaenese foil wires with some lighted, blinky, neon wires thrown in (unfortunately these pix don't do them justice.) Sorry I didn't take pix of the making of... next year I will....

If you have any great ideas for costumes for me next year - I'm all ears!

Back HOME!
Back to the Main Picture Page!