Hey folks –
Eric & I are here in Orlando and working HARD. There is so much LCV is doing here and we are GO GO GO. The coolest thing is that I feel like we are really making a difference vote by vote. This county is VERY split and it is GREAT to be in the thick of the fight.
Here is the COOLEST thing I have seen in a while. LINES: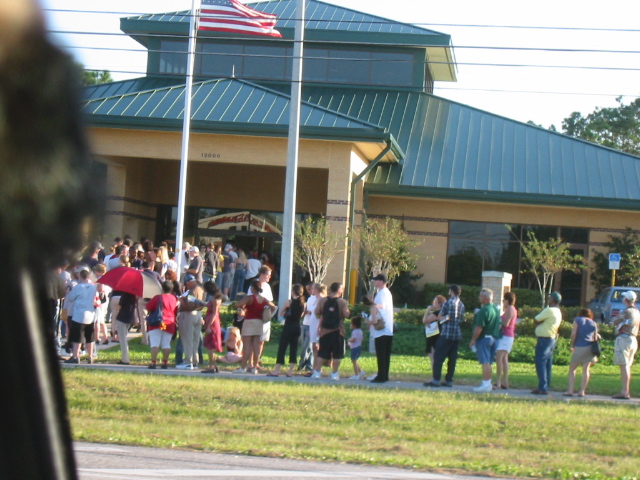 These are the lines for Early voting here in Orange County. This is one of 8 sites. On one hand it is kinda lame that they aren't better prepared, but on the other hand, this is awesome. I have always hoped that there would be so much interest in voting that there would be LINES. Like in South Africa. Well this is the US. Americans. In line, for voting. Think about it.
I think turnout is going to be colossal. No – seriously. COLOSSAL. (Yes cynic-chorus – I know that we have to get them to count) but think about it. Fantastic.
I don't know what is going to happen, but I'm so happy to be here in it. Gotta go!
For all of you out there WORKING for change – I salute you & love you. I hope some more of you can help MoveOn make calls – Click Here
ROCK ON EVERYBODY! FIGHT!
'deep and Eric in Orlando!
(.PS – CLICK ON MORE BELOW – TO SEE MOVEON'S PLAN FOR CALIFORNIA HELPERS)Dear MoveOn member,
In 36 hours, it'll be too late to volunteer. Too late to make phone calls, too late
to go door to door, too late to give money. The votes will be cast, and all we'll be
able to do is watch the reports roll in. But for now, there's one last opportunity
to act.
Across America, a grassroots force of over 70,000 passionate MoveOn members have
worked night and day to identify hundreds of thousands of Kerry supporters in
swing-state neighborhoods who aren�t yet committed to voting. If we get these people
to the polls, we really could provide the margin of victory. But frankly, right now,
we don't have enough volunteers to be sure we can get the job done. For the last
time in this election cycle, we need your help.
Those of us in the safe states are hosting over a thousand phone parties tomorrow
where we'll call the Kerry supporters we've identified in Florida, Ohio, Iowa,
Minnesota, and Wisconsin — the most critical swing states. We'll make sure they
have everything they need to vote. If they need a ride to the polls, we'll help them
get one. If they need to know where their polling place is, we'll tell them. If they
just need a kick in the butt to get out and vote, we'll gently provide that, too.
Can you join us tomorrow at one of these parties? All you need to bring is a cell
phone. Find a phone party in your area at:
http://action.moveon.org/gotv/
And if there is no party in your neighborhood, please consider hosting one. You can
set up your own party at:
http://action.moveon.org/gotv/new.html
We'll start calling when the polls open and stop when the last polls in Iowa close.
But even if you can't get away for the whole day, a lunch break or a few hours in
the evening or before work could make all the difference. We need callers until
10pm, ET.
Two years ago, beating Bush seemed impossible. He had the highest approval rating of
any President in modern history. He controlled all three branches of government. But
then he invaded Iraq.The economy took a dive. The deficits went up. And millions of
Americans stood up to take back their country.
Now, he's holding on for dear life. And it's within our power to tip him over the
edge tomorrow.
All the experts agree that what will finally make the difference is which side does
a better job at getting its supporters to the polls. And these phone parties are one
of the best ways to make that happen. We�ve targeted voters who are likely to
support Kerry. But without our calls, statistics show that a large portion of them
just won't get around to it. In an election that could come down to a few hundred
votes, we've got to make sure that every last one of these people gets to the polls.
Join us at a phone party tomorrow. You can sign up right now, at:
http://action.moveon.org/gotv/
Together, tomorrow, we'll make history.
Sincerely,
–Adam, Eli, Hannah, James, Laura, and the whole MoveOn PAC Team
November 1st, 2004
PAID FOR BY MOVEON PAC www.moveonpac.org
Not authorized by any candidate or candidate's committee.