(larger versions of these pix below…)
On my last trip to Paris, my cousin showed me places along the Seine where almost almost every night they had a free open-air salsa dance party…. He explained that people just started doing it & it had become an institution…. I began dreaming of ways to do it in SF….
Then this Halloween, my Disco Ball costume became a walking street dance party & I had MANY MANY hours of spontaneous dance fun with complete strangers… I realized I could make my own dance party dammit!
So I did what any geek would do – I made a website; I sent out email to everyone I knew & I collected enabling technology 🙂
The idea was simple: I'd pick a spot; send out an email telling people when to show up at the aforementioned spot; & then I would meet them at said spot with a sound system. Much boogie would ensue. It was just so crazy it just might work. 🙂 I call this idea FLASHDANCE – my flash mob dance party.
Within a few days I had 90 sign ups for my list. Within a week I had 275. People were waaaaay into it. It was time to try the first one…
I scheduled my first FLASHDANCE for 7pm this past Saturday (11/19/05) in nearby Dolores Park… Whereas I started with a fear that no one would show up, I quickly switched to a fear that too many people would show up…
So on Saturday…
At 6:30pm, I wheeled my laptop and the sound system with two car batteries into Dolores Park & set stuff up.
At 7:00, I started playing mellow music & switched back to worrying that no-one would show – where was everyone? Was I a big idiot for thinking this would work?
At 7:05, two friends of mine I hadn't seen since Burning Man 3 years ago showed up.
At 7:15, we had 10 people so I kicked into Stevie's "Superstition"* & we started dancing**. I hoped that more folks were coming.
At 7:30, there were suddenly about 40 people – WOO! We were ON & much boogie was being visited upon the environs!
From there on out it was go go go! People were having so much fun, I was dancing my ass off. Folks were meeting new folks. It was GOOD. About 75 or so people showed up over the course of the night with about 45-50 dancing at any given time!
We finally finished up at around 9:30 or so. I got an ovation from the crowd. Everyone was very into it & we discussed plans for our next one…. maybe even a culture jamming version – take over a park in SF's shopping district on "the busiest shopping day of the year"….. stay tuned! 🙂
—-
Unfortunately The pix don't do it justice:
around 6:45pm:

around 7:15:

around 8:45: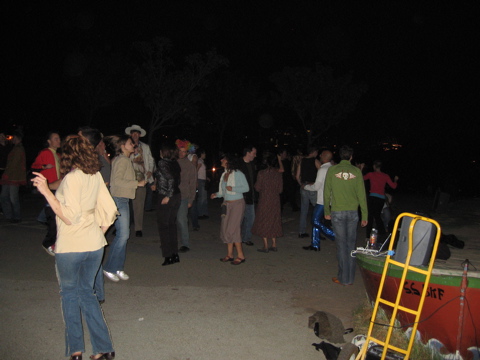 that's me in the blue shiny pants!
* Ok so it isn't QUITE a flash mob because I'm not just SMSing people with a few hours notice….
** the complete playlist was:
Superstition / Stevie Wonder
Baby I'm A Star / Prince
Don't Stop 'Til You Get Enough / Michael Jackson
Sweet Pain Remix [JOI Remix] / Nusrat Fateh Ali Khan & Michael Brook
Hey Mama / Black Eyed Peas
Get Off Your Ass And Jam / Funkadelic
Crazy in Love / Beyonc�
Radio Hollaback / The Clash vs. Gwen Stefani
Hot Stuff / Donna Summer
Callin' Out / Lyrics Born
Cyclone / Dub Pistols
I'm Coming Out / Diana Ross
It's Tricky / Run-DMC
'Bout Action Lyrics Born
Kiss / Prince
September / Earth, Wind & Fire
Beware (Jay-Z Remix) / Panjabi MC
Rock el Casbah / Rachid Taha
Shut-Up Remix / Black Eyed Peas
Ray Of Light / Madonna
Working Day And Night / Michael Jackson
Signed, Sealed, Delivered I'm Yours / Stevie Wonder
Family Affair / Mary J. Blige
Jive Talkin' / Bee Gees
Way U Move / 3Style
Dance To The Music / Sly & Family Stone
Desi Rock / SWAMI
Bizarre Love Triangle / New Order
19-2000 (Soulchild Remix) / Gorillaz
Hey Ya! / OutKast
Gold Digger / Kanye West
Don't Stop 'Til You Get Enough / Michael Jackson