(or "Favorite thing about Paris #284")
[Ed Note: click on any of the pix for all my Space Invader shots, or read to the bottom to get the full scoop AFAIK.]
[Ed Note: Added a few new Space Invaders I found 5/5/07]
Way back in 2003, on my maybe 3rd visit to Paris*, I saw some graffiti off in the distance (here's the shot) & thought – "Hey! That's a Space Invader!"
Then I thought "Hey that isn't paint – that's tile work!"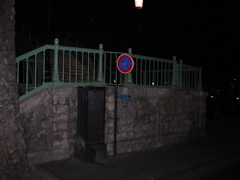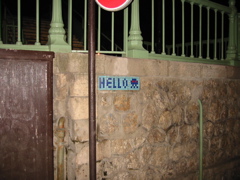 Then I thought "That isn't just surface tile work…they've taken the time to mount it INTO the wall!!"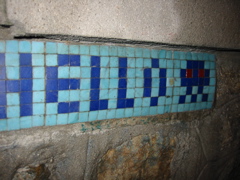 Needless to say I was in love. Ah Paris 🙂
So now every-time I come back to Paris, I see more….
I never set out looking for them, but I'll turn a corner or look down & blam:
Here's one from 2005:

Well, I've only been in Paris for a few hours this time around – but the Space Invader guy has been busy & I keep turning around & seeing one! Here's one I took today: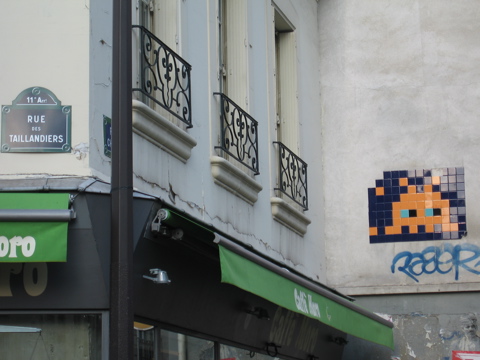 CLICK HERE TO SEE ALL MY SPACE INVADER PIX SO FAR
His invasions have occurred worldwide, but he is from here in Paris. Google, Flickr & Wikipedia all have tons of stuff about him. Here is a write up. Here is his website & a list of cities he has invaded (I love the fact that he has 6 on the Hollywood sign, & his NYC pix are great– but WHAT! he hasn't invaded SF!??! Geeks & Graffitti? Hello! Cluephone! or perhaps Bonjour Avec Le Phone le Clu! (needless to say I'm unappreciated in France))
'deep
.ps
I just got back from the south of France – it was nice but rainy – I have some cool pix, but they'll wait. I spent today biking around Paris – you can imagine how happy that made me. For those of you wondering why I'm blogging rather than out doing something, it is 3am & I'm chilling before bed – so nyah! & it sure beats planning my India trip 🙂
.pps
Here is a whole website about mosaic graffiti. Adrian, as official ART Minister of 'Deepistan start scheming. We'll get underway soon.
*My cousin lives in Paris & thus every once in a while I'm OBLIGATED to visit Paris….