NOTE: This is my second quick-'n'-dirty post from Ohio. Again, I'm sorry for grammar, punctuation & readability. Sorry – just too busy.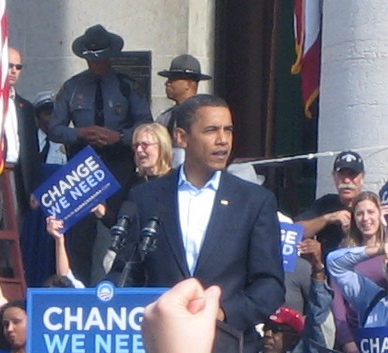 (click Barack to see more pix from my trip)
Many things have CHANGEd since my last post. CHANGE! I'll drop some quick notes before I go to bed – tomorrow I have to get up crazy early and help squeeze the relatively small # of Obama votes from this area to offset part of the red wave from this part of OH:
I'm now in the red red red Republican hinterlands in the northwest – near Cleveland & Lake Erie. McPalin signs outnumber us at least 2 to 1.
My new Obama belly has grown considerably (soooo much campaign junk food everywhere & the aforementioned "would you like iceberg lettuce with that bacon?"-salads. What's hi in the middle & round at both ends…. (sigh) …me 🙁
I saw Barack at a rally Sunday – he rocks. Clearly a little tired, but the confidence, charm, and stature is impressive. 60,000 people showed up for his rally at the state capitol.
I rented a car and drove up here from Columbus. On the way here (late Sunday night) I dropped off various things at various other campaign offices on the way. The energy and excitement at each, LATE on a Sunday night was amazing. Given, it was 2 nights before election day, but check these (1) articles (2) at 538 for comparison. Anyway here is the picture I took at a small office in Cleveland – it doesn't quite do justice to the noise, energy & buzz, but perhaps it does do justice to the the diversity and youth. It really is cool to see. As The Who albums says, "The Kids Are Alright". I am amazed not just at the youth and energy, but also the intelligence, focus, & drive. It gives me more HOPE.
When I decided to come out, I was a little leary of staying at host housing & considered getting a hotel room for myself. I'm always a little leary of staying with hosts – mostly because I am always worried about inconveniencing benefactors, so I'm never relaxed. But after staying with 2 different Ohio families, I have to say, I'm glad I didn't stay in a hotel. It is really really nice to connect with people who you don't know anything about, and stay in their homes, and to enjoy their generosity (Thanks, Jeanne & Hal, Elizabeth & Jim!)
The technology angle of all this is once again noteworthy. Using my iPhone 3G's GPS to get me anywhere and everywhere in these completely unfamiliar surroundings has been AWESOME. I navigated to Cleveland, & all around to various campaign locations, & all around this pretty rural area with ease! Thank god I found that Wal-Mart open late Sunday night with an iPhone car-charger though….
.PS – GO VOTE TODAY & EMAIL ME IF YOU WANT MY VOTING GUIDE A.K.A THE 'DEEP SLATE!! (Yes on H! No on 8!)
.pps I miss you guys & can't wait to get home.
.ppps: TO ALL OF YOU WORKING ON CAMPAIGNS BOTH AT HOME & IN SWING STATES – YOU ROCK! THANK YOU!