SF Valentine's Day Pillow Fight 2009
For the past 3 years on Valentine's Day here in SF, there has been a MASSIVE flash-mob pillow fight. They have all been moste excellente, but this one was even more vast than the last two…
This video, taken from high above, does it justice:
(courtesy of kapshure)
And though I had thought about skipping it this year*, the fear of Missing The Fun won out… so I assembled Trikeasaurus & headed out (I actually forgot my pillow!):
NOTE: This video is really long – so watch if you like, but for purposes of this blog post, definitely check out the start & if you want 1:45, 4:30, 5:00, & 6:40 as well (I'll see if I can get a shorter edit)


(courtesy of overnightpro)
In the end, I got my glasses broken, lost my favorite jacket*, inhaled a troubling amount of goose down, got my nose scraped, & Trikeasaurus was injured. And was it worth it? I think this next shot sums up my feelings….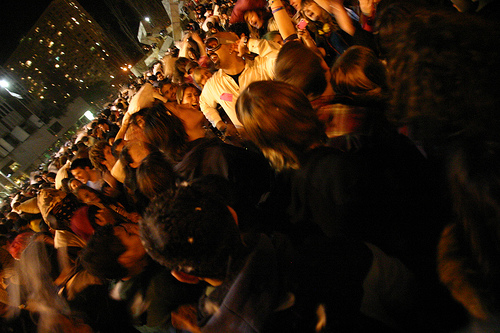 Hmm, maybe having fun?
(courtesy of Rita Parada)
Bringing the music to the tired huddled…. um… combatants…
(courtesy of Zachary Hanna)
In a troubling note however, I was cited by the United Nations Commission on Costumes and Holidays (UNCCH) for a lack of bacon:
(courtesy of SFRichardT)

OMG! I soooo loved the UNCCH folks (check out their site!)
Next year, I harden Trikeasaurus, make some signs ("Don't Hit Overhand – it hurts!"), and remember to put on my goggles BEFORE my glasses get broken.
Damn I love this town.

But why am I colorized? Is it that I'm OLD and need to be colorized to be appreciated by younger viewers? ……
(courtesy of Andrionni Ribo)

One more video….
* What's wrong with it? Well, there are an AWFUL lot of feathers and debris after this thing is over – think snow drifts. Not all of it is decomposable either – a sad amount is synthetic. There were City street sweepers cleaning up afterwards though…. Why can't my fun things be purely good all the time?
**I LOVE THE INTERWEBS. As I was looking for footage on YouTube, I found the video above by "overnightpro" & look what I found in the comments: "Rusoutdacuts: I feel kinda bad, some how my drunken self got a hold of the bike djs silver jacket, gloves, and blue key chain." I've emailed him & have my fingers crossed!