If you know much about SF, you know that the SF Bay Guardian matters. It is the local-scene and left-wing-politics weekly and I love it. Every year they do a "Best of The Bay" issue wherein they give the low down on what's what in my beloved Yay Area…
So, how happy was I this morning when my friend Meli pinged me to show me this: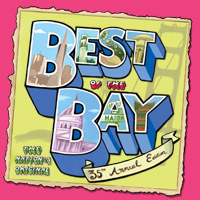 BEST BLOCK-ROCKIN' BIKE

Amandeep Jawa's bright blue, sound-rigged party-cycle — Trikeasaurus — is our bestest Critical Mass compadre and bike lane buddy, and an essential component of his impromptu FlashDance parties. This three-wheelin', free-wheelin', pedal-and-battery-powered funk machine has been bringing the party to the people — and leading spontaneous Michael Jackson tributes — from the Embarcadero to the Broadway tunnel for the past two years. Even if you're just out for a stroll or a bit of that ephemeral San Francisco "sun"-bathing, when Trikeasaurus comes rolling along you just have to boogie on down the road, bust a move, get your groove thing on, let your freak flag fly, and insert ecstatic cliché here. We can pretend all we want in the privacy of our own hip sancta sanctorum that Destiny's Child or OutKast will never move us, but somehow when Trikeasaurus comes bumping by, we just can't help but bump right back. Don't fight the feeling! Join the 500-watt, 150-decibel velolution today.

www.deeptrouble.com
Imagine how excited I was. And I loved what they had to say! They captured a lot of the ways Trikeasaurus brings the happy and they also put it so well 🙂 "…insert ecstatic cliché here" indeed!
I'm a happy camper. This is one of those things that means something to me – THANK YOU SF BAY GUARDIAN!
Here's the link to the actual online issue…. this is just one of numerous categories…
.ps
Oh and for those of you new to their BotB issues – yes, they make up categories as they see fit 🙂 That being said there are a few music bikes of note in SF, so perhaps it can be said there were other options 😉
.pps
This means that I've been a Best of The Bay in both of the local weeklies – woooooot! Once for Trike, and once for FlashDance!