Update 5/21/10: Bob's Friends' Memorial 5/23 Info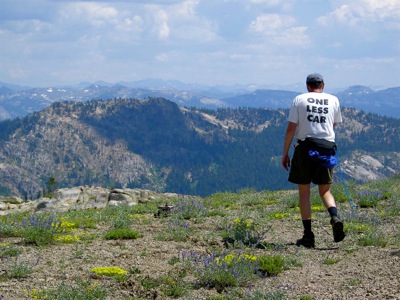 Hiking with Bob, Mokelumne Wilderness, July 2003 (courtesy of Eric Arons)
I have developed a few life rules over the years & I have added one more over the past few days:
Rule #1: Avoid Death
New–> Rule #2: Make Yourself Known (Intimately)
Rule #3: Leave Things Better Than You Found Them
…
Rule #23: Avoid Tusks
—
A few days back one of my dearest friends committed suicide. Even writing that still brings tears to my eyes. It's a very recent occurrence and we are all sitting here struggling – through pain and loss, confusion and anger, and mostly just struggling.
One of the saddest and most instructive things (yes, I MUST try to make some good come from the chaos) of this whole event is that I just lost one of my best friends and I didn't even know he was one of my best friends.
Tuesday, I was sitting at work when I got a Facebook chat from a friend – he was looking for my friend Bob's family contact info, with "horrible news". Very quickly, I learned that my friend Bob had taken his own life.
Then, in trying to find Bob's family's info, I thought to myself "OK – who is Bob's best friend? Who knew him best of all us?" Bob and I had been really good friends for 13-14 years and he was a constant in my life, but I never felt I knew him really intimately like I do with my closest friends.
So I went through the list of Bob's closest friends in my head… and one by one I realized that none of them knew him more than I did (Please let me be wrong about this? Anyone?) – sure they knew parts of him more (more time on the playa at Burning Man, more time hiking, more time singing karaoke) – but I knew other parts more and probably spent the most time overall with him. We were probably all on the same level of intimacy. That hit hard. It was me. I was one of Bob's best friends. Oh god.
I shifted into acting like "the best friend" and thus went into "responsible-in-a-crisis" mode because, well, it is something I'm good at, and it needed to be done, and it gave me plenty to do other than cry my eyes out sitting in my office.
Within short order, I had contacted the friend who found him, figured out how to find his family, contacted his sister (& broke the news to her), contacted the coroner, put the coroner in contact with his sister & emailed all our friends with the news, informed the world on Bob's FB page* and set up a get-together at my house for all our mutual friends. Then I went home early, went and talked to the friend who found him, set up the event at my house, got more info from the coroner, and then hosted the get-together at my house, and greeted everyone and then pulled them aside to give them the latest that I knew. I even tossed in some baby-sitting for good measure, so another friend could be with the group 🙂 .
Since then it has been up and down. This has actually been a super fun week: Disposable Film Fest (Me & my Trike provide the sound for a bike-in movie night projected against the side of a building), Bike To Work Day (always one of my favorite days of the year), and now today Bay 2 Breakers**. I have had a blast, and I have cried and cried, and screamed and beat my fist on counters, and choked back sobs in inappropriate times and places. Mostly, I've just cried. And thought of Bob.
I've had two fascinatingly sad realizations in this time.
The first sad realization involved how we all knew Bob: People from all over Bob's life have said the same thing: "I didn't know him that well, but he was so good, and kind, and generous – I wish I had known him better." It didn't matter if they met Bob for 15 minutes on a bike ride with me, or had known him for 15 years, they all said they "didn't know him that well" or "I wish I knew him better."
Me too. I tried.
I have known Bob for 13 or 14 years (I wish I could figure out exactly when I met him) and from the get go, I liked him a lot. Everyone did and everyone who meets him does. Bob and I have spent lots and lots of time together – great times – most of the best times of my life have had Bob in them. But if you had asked me before Wednesday if Bob was one of my best friends, I would have said "No."
I loved Bob, but I did not know him intimately. Unlike all the other people I consider best friends or super close friends, I had never gotten to that level where I felt like I really knew how Bob felt about things.
It wasn't for lack of trying – I can think of many conversations where I tried to pry into Bob's world – only to back off due his lack of enthusiasm, or my sense of respect for his boundaries. Usually, when you ask close friends sensitive questions about their lives, at some point they begin to tell you more than you ask & you learn about them. Bob always told me only what I asked – or less.
Even the last year or so, where Bob lived with me for 9 months on and off (while his house was being remodeled), there were ample opportunities and attempts to talk – but none of them bore much fruit.
If I had known Bob was ever truly sad, I would have pushed harder, I would have made it happen – but Bob was almost always pretty happy, and was always even-keeled. I knew of a few times he was down, but they always seemed to be fleeting and momentary….
The second painful realization was for me. The morning after I found out, I suddenly realized the scope of my loss. Bob had always been a rock in my life, a point of solidity and orientation, but I hadn't realized that by his sheer constance and enthusiasm had become one of my best friends. I counted on him to always be there and life was always better with him around. My girlfriend (who has only been in my life for a few months), said "I was surprised when I heard you say that Bob wasn't one of your best friends – he was always the first person you called…"
All my birthday parties, all my FlashDances, all my Thanksgivings, and lectures, and Sunday Streets, and Trike rides, and movies at my place, all the burritos, and all the nights going out dancing at Bootie and Non-Stop Bhangra, and the PIXAR movies or blockbusters, all my ImpromtiQs, all the Critical Masses, all my attempts at cooking my Mom's Indian food, all. of. it. Bob was there 95% of the time. And every time, he made things better. My life was so much better for always being able to count on you Bob. I'm sorry I've only just now realized you were one of my best friends. I wish I knew you better.
—
In thinking about all this, my new rule becomes clear, as my friend Amy put so well: "let people, one person at least, in – share yourself, all of yourself, warts and all… ; connect deeply; share your burden; bare your soul…" And my girlfriend, Kimberly, added the other essential part of this: "that friends can only meet you halfway — they can ask, but you have to answer." That is seriously worth noting – the responsibility is ours to reach out, as much as it is our friends' responsibility to ask.
Bob was great on #1, #3, and as far as I know, #23. And I guess he taught us all the value of #2.
'deep
.ps
I wish I believed in an afterlife, and I certainly don't believe in a god. I think he's just gone. As we all will be someday. I think Buckminister Fuller once said something like we are all just patterns in the food we eat, much like a knot is just a pattern in a rope. I guess that means, in the truest sense, Bob's only afterlife is then as patterns in our minds: the cliché about living on in our memories is all we have. I'll do my part, Bob.
.pps
Adrian Cotter has put up a tremendous set of photos of Bob here: "The Life And Times of Bob Seymour." It's fantastic. Check it out.
* People were already posting things on Bob's FB page that made it clear that something horrible had happened & everyone else was getting worried – so I broke the news.
** All of these were the types of things I did with Bob.