Last weekend at FlashDance 29, Sister Viva L'Amour and Sister Selma Soul showed up & asked for the microphone & I of course, said "yes" immediately out of respect. They then proceeded to Saint me!! I've been Sainted by the Sisters of Perpetual Indulgence!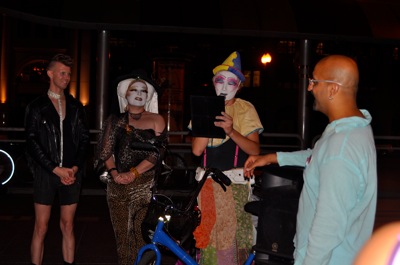 Courtesy of Adele Burnes
This means so much to me I don't know where to start!
To be appreciated is always nice, to be honored is even better, but to be honored by people you admire, that is simply fantastic.
For those of you who don't know who The Sisters of Perpetual Indulgence are, check this great Wikipedia article* – but in the best sense of the words, I'd say they are the clown-priests of San Francisco, steeped in social justice, gay pride, high & low comedy, and irreverent demolition of many of the most troubling aspects of organized religion (like guilt and intolerance.) Add to that the fact that they bring flair, wit, and humor to all they do, and you begin to understand why I hold The Sisters in such high esteem. And now they have deemed me to be part of their world. Wow.
The proclamation says it all:
SAINTHOOD!
Absolutely, Totally, and Universally Administered by The Sisters of Perpetual Indulgence, Inc., The Sisters Hereby Forever Proclaim Amandeep Jawa

Saint Deep Vibes of the Free Wheelin' Patron Saint of Thumpin' Trikes
For upholding and promoting the ideals, beliefs and convictions held sacred by the Order,
For creating positive changes in our world by honoring The Mind, The Body, & The Spirit,
For perpetually dedicating untold hours of freely expended energy
in service to The Order and to The Community,
For promulgating Universal Joy! and expiating stigmatic guilt everywhere you go,
Be It Decreed That From This Day Forward That Your transgressions shall be reduced to mere fluff in
the eyes of the Goddess who knows all and forgives all,
Your good works shall be remembered in honor and in perpetuity,
You shall forever stand as a pillar of strength in The Community, You are hereby perpetually allied with the
Order of The Sisters of Perpetual Indulgence, Inc.
Therefore, Sainthood is forever Proclaimed on this Honorable Day, September 25th, 2010
in the presence of The Community & The Order of The Sisters of Perpetual Indulgence, Inc.
Sister Anni Coque l'Doo, SPI, Inc. Sister Viva L'Amour, Mistress of Saints
Sainthood at last! Sainthood at last!
Thank Goddess Almighty, Sainthood at last!
I now answer to "Your Saintliness", or "Your Holiness" 🙂
-Saint 'Deep
*Even if you think you know who the Sisters are, the Wikipedia article is a GREAT read. At the very least, check out their mission statement at the end of the "Inception" section & the list of my fellow Saints. I imagine those are the A-list saints (unlike lil ol' me) – but nonetheless wow again! (Also there is a pic of Sister Viva L'Amour in the "Sisters at Reno Pride" section.
.ps for a few more pics go here…
.pps The Sisters' website is here…