[Ed. Note for friends: I have decided to have a new custom trike built: Trikeasaurus Rex! To do so, I need to explain what Trikeasurus is, so I made this video & blog post as an RFP (Request For Proposal). It is a simple history & set of requirements – but by all means DO CHECK OUT THIS VIDEO I MADE BELOW:]
[Ed. Note for potential suppliers: I'm just using the term "RFP" because I have delusions of grandeur – don't worry, I don't necessarily need a formal "proposal". This is really just a framework for discussion.]
[UPDATE: 10/2/20 I just realized I never updated this post with a picture of the results of this post: Trikeasaurus Rex built by the awesome Rob Archer of Nebula Cycles]
So here it is. And if you ever see me cruising around San Francisco, I hope you say Hi!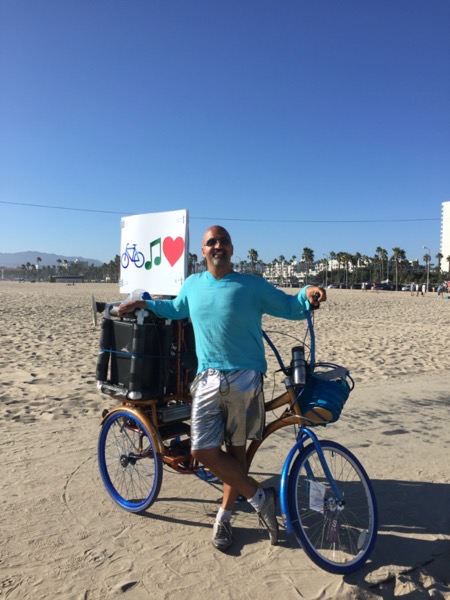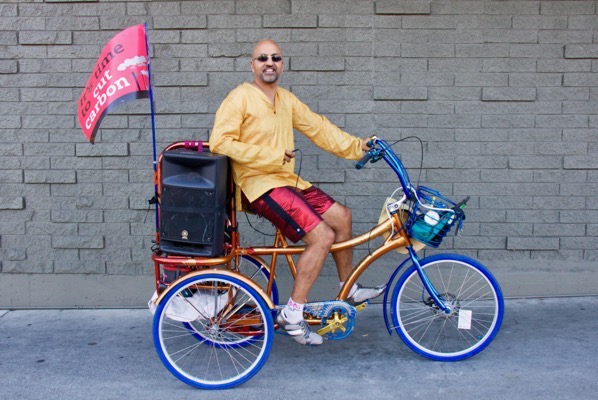 History
For almost 5 years now, I have been enjoying Trikeasaurus, my roving tricycle-sound-system.
Trikeasaurus was initially conceived as a simple way to transport my sound system to my FlashDance events. Flashdances are free, outdoor dance parties I put on in various locations in San Francisco every month or so during the spring & summer.1
As it has turned out, Trikeasaurus has become a much more general purpose source of fun and I use it often, not just for FlashDances. Watch this video to get a sense:
Trikeasaurus in its Natural Habitat
The video shows Trikeasaurus mostly in its initial configuration, a cheap, Husky adult tricycle with a small, custom metal-work speaker mount system.
Two heavy Yamaha Stagepas 500 speakers were mounted on metal tubes that were attached as a U-shape to the bed of the bike. This Trikeasaurus configuration had several critical problems:
Eventually the metal speaker mount tubes cracked.
The wear and tear I was putting on the cheap tricycle caused the frame to crack.
The sharp edges of the speaker mount tubes damaged the speaker housings.
To solve these problems I purchased a heavy duty industrial tricycle from Worksman & began using it. Its bed was large enough that I didn't need a speaker mount. That version of Trikesaurus is pictured here: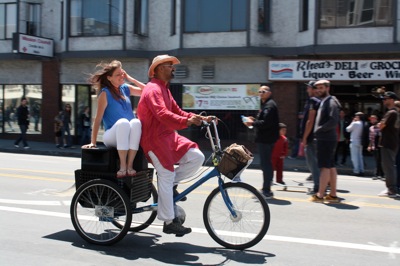 Unfortunately, the Worksman tricycle was just too heavy. Though it did, in fact, feel very solid, it rode really slow and was a pain to ride all around town. It felt like the slowness had more to do with internal resistance than weight.
Eventually, I had a much lighter sound system made (using a digital amp that required no inverter & took less power), and improvised a PVC based speaker mount (that I planned to replace with custom metal work) and returned to my original lightweight tricycle (after having the cracks in its frame repaired.)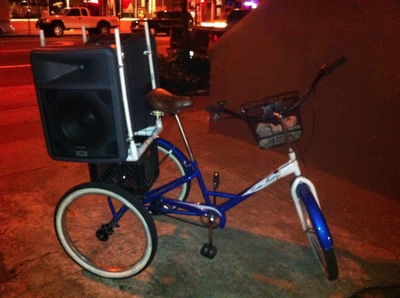 (click for more pics) Here is the new PVC mount system I made.
I was using this until recently when the frame cracked again (in a new location) and the PVC mounts failed:
Thus, I need a new tricycle and have decided to seriously investigate having one custom made once and for all. The simplest & cheapest option would be to remake my PVC mount & try again with a similar tricycle, but it I'd prefer a better solution that would last & look great.
Requirements
I'm interested in either a custom built trike from scratch or a modified (strengthened!) version of an off-the-shelf trike. I'm willing to pay for quality, durability and aesthetics. Ideally, the builder would be as excited about this project as I am.
MUST HAVES:
Heavy duty & designed to take a beating. Fundamentally, I want something that is really reliable & doesn't require a lot of maintenance.
Rides nicely. This is where the Worksman fell down, it was just slow and heavy feeling & it felt like there was resistance other than the weight.
Light as possible, given requirements 1 & 2. This isn't as important as the first two, as long as 2 is true, but nonetheless, light is good.
3 Speed at least.
Speaker mounts/bays: I have at least one idea for how to mount the speakers (see the PVC mount pictures) but am game for something better:

I need easy mounting/dismounting of at least one speaker, for stereo separation & coverage at dance parties. Preferably both.
I already have a sound system I am using which I can provide dimensions for, but I'm also open to other sound system recommendations & am also exploring other sound system options. Currently the sound system I use is approximately 500W. Here is more info on how it was made.

Parking brake, for temporarily leaving the bike unattended.
Fits inside 24th Street BART elevator. Basically this means I could get it in a box 72″ wide by 58″ deep (so the diagonal length is about 84″.) The BART elevator entrance is 42″ wide. My original trike fit, albeit snuggly and only on the diagonal with the front wheel turned in. The Worksman version did not. Let's say 53 inches tall.
Sparkle metallic paint job: I'm a big fan of the metal flake glitter paint often seen on cars. Here are some examples.
NICE TO HAVES:
Standing pad: see the picture above where my girlfriend is sitting on top of the speakers. That is overkill but if there was just a small pad she could stand on maybe the size of a small doormat and hold on, that would be great. (think chariot)
Push points: Often on Critical Mass & Bike Party, other bicyclists help push me up hills. On some of my tricycles this is easier than others. My Indian rickshaw has small horizontal posts sticking out the back sides that makes this easy. Something like that could be very helpful. Pictured here.
Builtin LED lights for entertainment & visibility
Removability of sound components to make a useful cargo trike (note: this is much less important, because I'll probably buy a cargo bike & I'd rather this trike look perfect, but it can't hurt to ask…)
Unique styling (Indian rickshaw? Dinosaur? Discoball?) (see photos below for ideas). I have a small collection of classic Asian rickshaws (pictured in the photo set) & am of Indian descent.
Something that you are proud of and is a testament to YOUR creativity.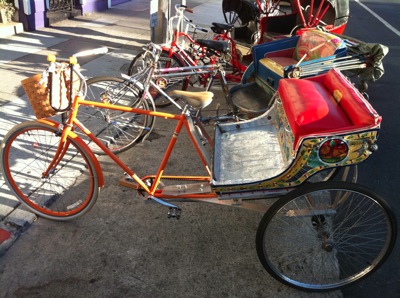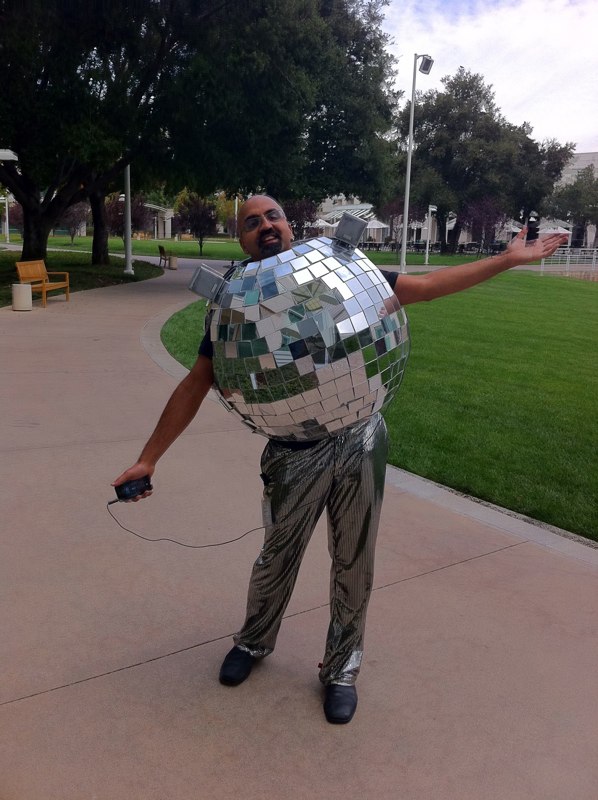 1.This video is from my last FlashDance on Halloween. Note that since Trikeasaurus was broken (pix above) I used one of my rickshaws to transport the sound system.:↩
.ps
While I wait for Trikeasurus Rex to be built, I've been using Temporaryasaurus (rickshaw + speaker!):