[Ed. Note. What follows is the write up of my latest ridiculous Halloween escapade: Glamosaur 3.0, along with an explanation of how I made it. If you really just want to see the pics, click here, or the "making of" pics, click here. At the end of this post, there is a bit more about my Halloween FlashDance, including the playlist. Thanks & ROWR!!!  Also, If you want to see the 1.0 version from 2006 or the 2.0 version from 2009 here are the links.]
[Also: If you like what you hear about Sew-Op down below – please DONATE – they are just getting under way and could really use your help!]
 
Finally!
"Didn't you do that one already?" – Dave, my boss, upon seeing the awe-inspiring and completely new Glamosaur 3.0
"So what was the difference in materials between this glam-o-saur and the last one? Shiny fabric stuffed with foam vs … ?" – my friend Geoff on Facebook
"Oh cool! Hey – aren't you the guy who dressed up as a Disco Ball? When are you going to do that again?" – Woman in the Apple Cafeteria
🙂
After 3 attempts, I finally made a dinosaur costume that was AWESOME. Glamosaur 3.0! All 3 have been ridiculous, but this was the first that was ridiculous and awesome. As seen above, however, "awesome" to me, and "awesome" to my public are somewhat different – but, oh well, I'm always the most important audience. Luckily, the above comments notwithstanding, most of the people who saw my costume seemed to enjoy it as much as I did, except, of course, when they were TERRIFIED:
See! I am TOTALLY fearsome!
And as for me? I had a BLAST in it. How much of a blast? Well this video from my Halloween FlashDance party pretty much sums up how much fun I was having:
Glamosaur 3.0 Goes to FlashDance
The Making Of: Sewing + Skeleton
Fundamentally, my approach to Halloween is marked by the fact that while I have only very rudimentary crafting/engineering ability, I have loads of enthusiasm and am fairly imaginative. This tends to make every October a fresh slalom through harebrained schemes, crushing disappointments, crafting-related debris fields, and deadline pressure. But the upsides are actually even bigger: lots of creative problem solving, dreaming up & experimenting with new construction techniques, and refining ideas I've stumbled upon in past costumes, and mostly-amusing failures. And then, in the end, I usually have a costume that is at worst bad but amusing, or at best, awesome (& in this year's case, quite ridiculous!).
The biggest difference between this dino and the last? I learned THE SEWING! (I know! Right!?! With like, thread & bobbins & stuff!). 
___________
As I was pondering what costume I should try to make this year (& was drawing blanks), my friend Catherine Tullner mentioned that she was starting "Sew-Op" – a place where people could learn how to sew particularly for making useful & creative things, have access to sewing machines & related equipment, and generally be part of a crafty community. Boom! Immediately, I realized that this would be perfect for me, because I've always known that the biggest hinderance I was having for a good dino costume was THE SEWING. 
The last two dino costumes were designed with the lack of THE SEWING in mind. Both were attempts to make large bulky bodies out of foam. Actually, both were disastrous attempts to make large bulky bodies out of foam.1
For the first one, I tried to stack a series of foam cross sections to make a large form – it was expensive, janky, and impossible to decorate since it soaked up paint like a large sponge (Note to self: Of course, IT WAS FOAM!). Worst of all it made for a really bad tail that wouldn't stay on. In the end, I had to scramble to create a completely different kind of tail, which also didn't work… It also wouldn't stay on. My engineering attempts to create a tail inspired the Dino 2.0 costume, in which I tried to make a skeleton out of foam "noodles" (pvc insulation) & then cover it with a foam sheet, like a burrito. The skeleton failed, and the burrito required VAST amounts of duct tape to sheath it to hold together. And after that I tried to cover the body in glitter, which basically flaked off in cakes turning swaths of San Francisco & the South Bay into a "Glitter Fallout Zone." And again, the tail sucked.
So I kinda shelved the Dino costume idea until I learned how to sew… And thus, when Catherine and her partner in crime, Rachael Gray2, told me about their "Sew Op" idea, I immediately thought "DINO 3.0!" 
Before I even got to the sewing, I needed to come up with a good skeleton/internal structure unlike the last 2 dino bodies I made. This year's skeleton proved to be the other big win of this costume, lending strength & form in a lightweight package. I used a PVC spine & then attached the noodle tubes from PVC struts attached to the spine. These made a ribcage more or less. I used duct tape to keep the noodles more or less at the right distance from each other. 
 This was OK but not great. But then we sewed a first layer of cloth over the skeleton & that helped, although it looked really ribby, suggesting to many people on Facebook I was building some strange insect suit. Importantly, since the spine went all the way down, the tail was integrated from the get go! No more tail fail!
We covered the first layer of cloth in batting & that got rid of the ribby, emaciated look, and then we sewed on the green shiny skin, complete with golden spiky ridge on the spine, and made the head. I took a new approach to the head this year which was mostly successful. I was inspired by these cardboard dino heads I saw online & this awesome costumer's work. So I made a head out of cardboard, with the idea that I would cover it in foam & then sew on a skin. 
At that point, I grabbed the feet & hands I made for Glamosaur 2.0 & we quickly made some sleeves & I thought I was done. But at the last minute, we realized that the head didn't hang well & I was always looking down. Catherine quickly slapped together a neck & suddenly voila the head looked MUCH better.
WOOT! Glamosaur 3.0 was born and ready to hit the streets! 
 
Room for Improvement
I'm really happy with the costume! It looked great and was easy to wear & dance in. Also, I'm really impressed with a) how much fun sewing is and b) how sturdy and fun to wear the body is. Nothing illustrates these two features better than the wiggleability:
Happy to See Catherine!
The biggest problems with this year's version are 1) the dino style geometry I shot for lead to problems & 2) at the very last minute, I realized how the head could have been much better.
The geometry issue is one I've struggled with on all 3 dinos: the differences in human geometry & dino geometry3. In fact, after 2.0 I wrote on my blog that I should give up on trying to make a body-geometry "accurate" dinosaur (think T shape, with the head & the tail making the top bar, and the legs making the stalk) & go with human style (think Man-In-Godzilla-suit). Unfortunately I didn't re-read my blog until after I finished, and also I'm too much of a science geek to give up on "accurate geometry in dinosaurs" since it is one of the hallmarks of modern paleontology. And yes, my costumes are ALL ABOUT PALEONTOLOGICAL ACCURACY THANK YOU VERY MUCH.
The fallout of this geometry decision is that I went with a straight spine which lead to a stubby tail dinosaur, which looks kinda dumpy. Sort of a short bus dino. If I had bent the spine back, I could have pointed the tail out further & it would have worked better. I'm still pondering options here….
The second issue was simpler, the head didn't turn out quite as awesome as I wanted. Honestly I didn't spend enough time on it & all the ways I made it were too new. The last minute addition of the neck made it look much better & I also realized that if I made the neck longer & thus wore the head like a hat (rather than with my face peeking out the mouth) – it would look dramatically better. But I didn't have time to make the "hat head" version with the big neck… Maybe 4.0 🙂
Those two problems caused me to be less enthusiastic about the costume when I finished it. But then after a day or so of wearing it and dancing around at my FlashDance party, I realized that it was, in fact both ridiculous and awesome & lo – I was pleased! The primary audience gives it a thumbs up!
 ROWR!
'deep
 
 
 
1. To be fair, if you judge the other versions of my dinosaur costume by the cherry-picked photographs I have posted, and don't look carefully, you might think they were pretty good, but honestly, if you saw them in person, you'd understand how flawed they were. Look good in photos != Functional And Workable Costume. For example if you look at the pix of 1.0 you'll notice that the tail is basically unattached & dangling beneath me.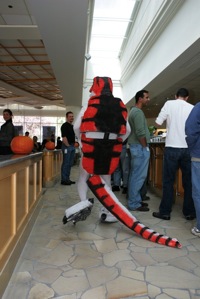 In 2.0 the tail is pointing stiffly straight down & if you look carefully you'll notice it tiny and also starting to rip.
↩
 
2. If you happened to read my Halloween "rules" post last year, you know that making my costume myself is a big part of it for me.  And this year, I set out to do it myself again, but in the process of learning how to sew from Catherine and Rachael, it really became a collaboration.  They just had waaaay too many good ideas and really made things easier and better than if I had done them myself.  Amusingly enough, as I was reading through the blog posts for 1.0 & 2.0, I realized that Catherine has played a significant role in all 3 of my dino costumes – which is unusual in that I usually don't allow for much help.  Rach & Cath – You guys rock!↩ 
3. Here is the Glamosaur explaining the problem himself, in his own inimitable fashion: ↩
 
Appendix: Halloween FlashDance 5
Woot!  5 years ago, I started an attempt to recapture some of the upsides that were lost when Halloween in The Castro was sadly shut down.  I really wanted a place where people had big fun, that there were great Halloween costumes, and felt very San Francisco.  Also, an event that wasn't overrun by gawkers-without-costumes, and the focus wasn't alcohol.  This year was my 5th one & I really think we've pulled it off.  The crowd ranged from as little as 30 to as many as 250(?) over the course of 3+ hours and was just fantastic & there were tons of GREAT costumes.  I've included a few here in my Glamosaurus picture set.  FlashDancers – you rock!
Here is more or less the playlist from that night:
Fell In Love With A Girl (Lewd Behaviour Remix) – Ghetto Funk Allstars
Moves Like Jagger (Studio Recording from "The Voice" Performance) [feat. Christina Aguilera] – Maroon 5
We Are Young [Reidiculous Remix] – Fun
Close To Blowing In The Deep (Bootie Exclusive) (Ke$ha vs. Adele vs. Madonna vs. Rihanna vs. Alex Clare vs. 3oh!3) – Titus Jones
I Like To Move It (Racoon Remix) – Sacha Ben Cohen
Trojans (Lenno Remix) [Bonus Track] – Atlas Genius
Lady Marmalade (Father Funk Remix) – Ghetto Funk Allstars
Right Here's the Spot – Basement Jaxx & Me'Shell Ndegéocello
The Clash – Train in Vain (Bobby C Sound TV Remix) – Ghetto Funk Allstars
SuperLove – Charli XCX
Treasure – Bruno Mars
Thriller – Michael Jackson
Jump In the Line – Harry Belafonte
Come and Get It (Love's On the Fire) – Jackson 5
(Your Love Keeps Lifting Me) Higher & Higher – Jackie Wilson
Tightrope (feat. Big Boi) – Janelle Monáe
All Night – Icona Pop
Show Me (Featuring Pos From De La Soul) – Mint Royale
Shoop – Salt-N-Pepa
Hey Ya! – OutKast
Killa Soundboy (feat. Sleepy Wonder & Zeebo) – Fort Knox Five
L.E.S Artistes (Left/Right Remix) – Santogold
Can't Hold Us (feat. Ray Dalton) – Macklemore & Ryan Lewis
Shake Your Body (Down to the Ground) – The Jacksons
Mmmbop – Hanson
Upside Down – Diana Ross
Get Blurred (Robin Thicke vs. Depeche Mode) – Lobsterdust
Bring The Muzik Back (Public Enemy Vs. Ice-T Vs. Beastie Boys Vs. M) – Lance Lockarm
Stayin Alive (Basement Freaks Remix) – Ghetto Funk Allstars
So Juicy (Notorious B.I.G. vs Jurassic 5 vs Tommy Sparks) – Salvador G (automatic reaction cut-up)
Jump In the Line – Harry Belafonte
Smells Like Teen Spirit – Setenta