Well kids, it's official: My FlashDance parties are quite pleasant. 🙂 I have come to this conclusion after FD 3 – around 120 people dancing away for a few hours on a gorgeous night at the big plaza in front of the Ferry Building. I thought the last location was the best, but this was maybe even better. This one was a a bit bigger than the last maybe 120 dancing at any given time, maybe 140 showed up over the course of the evening….
I was exhausted, I had spent the night before at the hospital with two of my dearest friends who were giving birth to an adorable little girl & had gotten maybe 3 hours of real sleep that night. But the vibe was so great, the people (you!) were all so fun, and the night was so beautiful, I was brought back from the dead & forced to shake it, as I am wont to do… THANK YOU ALL…..
For those of you who missed it, this here video says it all: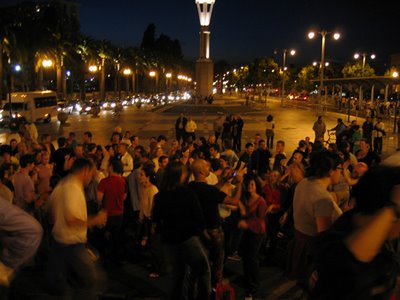 CLICK PIC TO PLAY MOVIE
& here are some more pix….. & here is someone else's blog post (thanks general fuzz!) – complete with YouTube movie!
Oh & by the way, here is the playlist. While this was MUCH fun… I'm thinking it was a little too conservative. This happens for a couple of reasons:
when I take a few too many requests
when I worry too much about getting people to dance by only playing stuff they have heard before.
Starting with FD 4 I'm going to start changing this trend….
Beware (Jay-Z Remix) / Panjabi MC
Hot Stuff / Donna Summer
September / Earth, Wind & Fire
Baby Got Back (Album Version) / Sir Mix-A-Lot
Crazy in Love / Beyoncé
Give It To Me Baby / Rick James
Let's Dance (ft. Busta Rhymes) / Brand Nubian
Get Down On It / Kool & The Gang
Hey Mama / Black Eyed Peas
Brimful of Asha (Norman Cook Remix Single Version) [Brighton] / Cornershop
Wanna Be Startin' Somethin' / Michael Jackson
Excellent / Blackalicious
Hey Ya! / OutKast
Nicotine & Gravy / Beck
Do You Want to / Franz Ferdinand
I Fought the Law / The Clash
Ooh La La / Goldfrapp
Signed, Sealed, Delivered I'm Yours / Stevie Wonder
ABC / The Jackson 5
(Come 'Round Here) I'm The One You Need / The Jackson 5
It's Tricky / Run-DMC
Push It / Salt-N-Pepa
Fantastic Voyage / Lakeside
The Way You Move / OutKast & Sleepy Brown
South side / Moby
Like A Prayer / Madonna
Higher Ground / Stevie Wonder
I Wish / Stevie Wonder
Eye Know / De La Soul
No Woman No Cry (Live) / Bob Marley & The Wailers
Set Adrift On Memory Bliss / (Radio Edit) / P.M. Dawn
This Must Be the Place (Naive Melody) / Talking Heads
The Joker / Fatboy Slim
Work It Out / Jurassic 5 & Dave Matthews Band
Where Is the Love? / Black Eyed Peas
I Want You Back / The Jackson 5
Close To You / The Brand New Heavies
BTW: The last 8 songs were actually after it was officially over – about 10 of us were just sitting out dancing a bit & enjoying the warm night….