The last few weeks have left me obsessing about the upcoming Presidential election as if it were a movie with hobbits in it, in fact I'm so obsessed with it, the movie would have to have hobbits riding dinosaurs fighting sharks…. and somehow Charlize Theron would be involved…. Wow….
Sorry, anyway, my obsession has lead me east and I'm writing this from ground-zero itself, Florida. That's right, Hurricane Deep has hit FL!
I'm volunteering with the League of Conservation Voter's Envirovictory project – the LCV's a massive door-to-door effort to win five battleground states for John Kerry: Florida, New Mexico, Pennsylvania, Wisconsin & Oregon.
So today was my first full day working & I spent most of it canvassing undecided voters. It was pretty exciting – I encountered at least 2 Republicans IN THEIR NATIVE HABIT! Fascinating and scary. One was even kinda cute – which made me feel unclean. [sigh]
The other thing I learned is that you can't tell a sane Republican from an insane one. For example, here are two doors – behind one lives a Republican voting for Bush, and the other, a Republican voting for Kerry: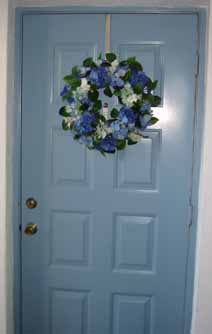 I can't really tell the difference (Note that "blurry" is NOT a difference! I just took the pic quickly so as to not upset the Republicans by seeming to be "casing" their homes – I hear they hate that.) Anyway, clearly more research is needed, and I'm here to do it… that and maybe to try & imagine a movie with hobbits, dinosaurs, sharks and Charlize Theron in it….. but I kinda do that anyway…… Perhaps I share too much.
.ps
For those of you who are interested, we are IDing undecided voters still on a fairly large scale, here in central Florida. The Dems are working elsewhere in the state on turning out their base as are the Republicans.