So for years now I've been attempting to try a Deep Fried Turkey. You see, every year I make the Thanksgiving turkey for my peeps, so this is like the 8 or 9th turkey season for me. They are always good, but occasionally dry.
Hence the quest to try a Deep Fried Turkey. And I've tried. A deli opened that sold DFT sandwiches. I went within a few weeks. It had closed for business. A friend offered to lend me his. I said yes. We made arrangements for pickup. At the last minute, he checked with his girlfriend. She had promised it to someone else. Finally, this year I could take it no more.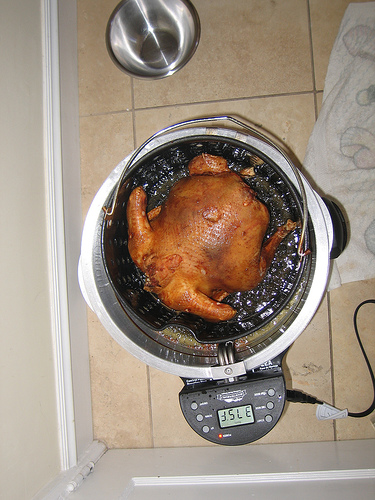 mmmmm deep fried goodness (Thanks Adrian!)

I decided it was time for 'Deep Fried Turkey (I hate this pun. Unfortunately it is more powerful than I am. Every time I try to ignore it, someone foists it back at me. If I wrote this post without this pun, people would fill the comments section with it. I give up. Resistance is futile. Ha. Ha.) I would get a fryer and make my own dammit.
So the next question was how do I get a fryer? Well I went to Bed, Bath & Beyond – they had smaller more-expensive indoor electric units. I went to Costco, they had larger outdoor propane units. I wanted indoor, not having to deal with propane meant there was a chance I would use it more often. My friends advised outdoor (more likely to get the oil up to temperature quickly). My coworkers advised outdoor (less indoor grease problems). They had me convinced. But as I walked out the door to go buy one, I checked Consumer Reports, & it said that the indoor units were just as good and MUCH safer. I went with indoor.

before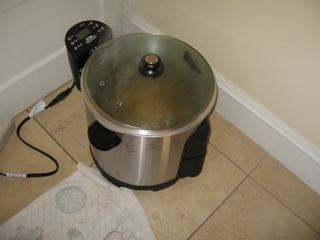 during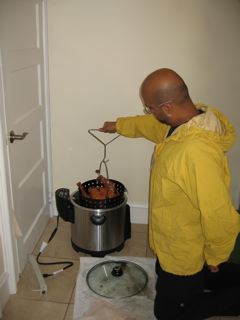 after
BTW checkout my hazmat suit aka a raincoat 🙂
There are more great pix in Brian's & Adrian's Flickr pages (thanks guys!). The turkey was supa moist, supa yummy and cooked supa fast! (Damn I have to go eat some of the leftovers right now). We actually ended up making 3 turkeys in as many hours (two for my TDay & one for a friend's). They turned out tremendous! The skin is like lightly fried chicken (no batter) and the insides are just super juicy. The cooking process was pretty damn simple. I highly highly recommend it.
.ps: I went with a Masterbuilt Stainless Steel Electric Digital Turkey Fryer. Overall it seems to be a well thought out and well functioning appliance, but I had two problems of note:
The biggest problems was that they had a MAX FILL LINE in the fryer that does not match the real world. You are supposed to put the turkey in & then fill the fryer with water to figure out how much oil you need – a.k.a the Eureka principle, but you are also supposed to never fill the fryer with oil past the MAX FILL LINE. Well, both my birds were within the allowed size (a 10lb & a 14lb – 14 is the max) & yet BOTH required oil past the MAX FILL LINE. That was disturbing.
A smaller (but potentially confusing issue) was that in the directions, they say explicitly how to use the controls. Unfortunately, various buttons on the controls are different from the instructions – for example, they don't mention the START button at all. You kinda have to take that part of the instructions as a hint.
But all in all I was pretty happy with it – here's a link:
Masterbuilt Stainless Steel Electric Digital Turkey Fryer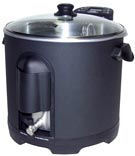 .pps: 3 words: Deep Fried Twinkies.
.ppps: Does anybody know anybody with a biodiesel car to give the oil to? Or a restaurant that likes such stuff?