NOTE: Please email me any good pics you have! Also I've just realized that there is no photographic evidence to suggest I actually dance at my own FlashDances 🙂 )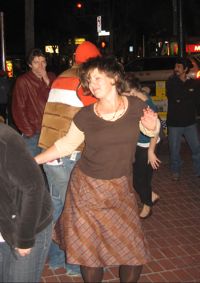 Gretchen works it out

Yep. That did it. FlashDance 7 was THE way to get me fully back into my life. I sooooo love you guys. That was just AWESOME. Even though it could compete with FD3 for beauty, it was my FAVORITE FlashDance so far – it was just so wacky and surprising:
Allegra's amazing synchronized group line dances (we're soooo learning one for next FlashDance! Think Jackson 5!)
The bizarre turn of events when the cops dashed through the crowd to tackle the wallet-thief (yay cops!)
Archana's great one-woman reproduction of the Saalam-E-Ishq Bollywood dance number (Did I swoon? I think I may have swooned?… In a very manly way of course 🙂 )
lots of cute kids!
The only thing missing was something stage-like for me to dance on (yes I have a problem) & ok – I think I need to get YET a bigger sound system! I JUST bought the last one – sigh.
Here are some pix from Flickr courtesy of Romel! (click on the pix for more):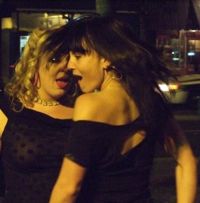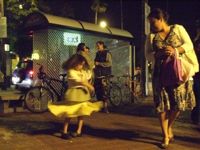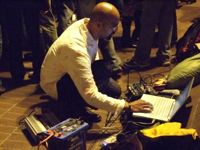 Read on to get the playlist & more thoughts…
On the musical side, I was really happy with the music. It is often hard to balance the requests from the crowd with the fact that I really don't always want to play the same stuff, but this set was just really fun & a mix of new and old stuff I really liked. The two new Groove Armada tracks are amazing. I had forgitten how much I love The Pet Shop Boys' "Always On My Mind." And the response to the bhangra song "Dil Le Gayee" was fantastic & a big surprise…
Here's the playlist – click on it to go to the iTunes store to buy some of it – for some reason iTunes doesn't think it has some of the tracks even though they ARE there in the store – who writes that lame piece o… oh.. I do. damn. sigh… I'll see if I can track this down & fix it – if so I'll update the iMix)
Flash – Queen
The Rockafeller Skank – Fatboy Slim
Lucky Star – Basement Jaxx & Dizzee Rascal
Cosmic Girl – Jamiroquai
My Prerogative (Single Version) – Bobby Brown
We Are The Ones – The Coup
Let's Dance (ft. Busta Rhymes) – Brand Nubian
A Love Bizarre – Sheila E.
Hypnotize – The Notorious B.I.G.
Flipsyde (Indian Mix) – Flipsyde
Music – Madonna
Always On My Mind – Pet Shop Boys
Get Down (Calvin Harris Remix) – Groove Armada
Right Here's the Spot – Basement Jaxx & Me'Shell Ndegéocello
Out Of Control – Bombay Rockers
Dil Le Gayee – Jassi
Do The Thang Thang (Bhangra Remix) – Shakti Feat Bikram Singh
Crazy in Love РBeyonc̩
Dec. 4th, Oh What A Night – Jay-Z vs. Frankie Vallie & the Four Seasons
'Bout Action (Featuring Lyrics Born, Lateef, Vursatyl, And The Gift Of Gab) – Lyrics Born
Song 4 Mutya (Out Of Control) – Groove Armada
Irreplaceable РBeyonc̩
Upside Down – Diana Ross
Lose My Breath – Destiny's Child
Lolita – Prince
Dance To The Music – Sly & The Family Stone
September – Earth, Wind & Fire
Salaam-e-Ishq – Sonu Nigam, Sherya Ghosal, Kunal Ganjawala, Sadhna Sargam & Shanker Mahadevan
Billie Jean – Michael Jackson
Hey Ya! – OutKast
Anyway – once again thanks you all for making it such a great time.
'deep
.ps
For all you fans of a good line dance, here is a quick video LAST Sunday's festivities at the Gorilla Fun Run, "Gorillas from The Crypt" doing Michael Jackson's "Thriller" led by Gretchen Ames (pictured at the top of this post). Thanks again G for inviting me to join your crew!