[UPDATE: 2/13/2013 – At long last, my friend Linshao Chin has SOLVED THE MYSTERY! What I guessed was called "Lai Won Bao" is actually "Nai Won Bao" or "Nai Wong Bao" which means egg custard bun (of course)!. I'm updating this post!]
Those of you who know me well, know that I am I'm never one for hyperbole or rampant enthusiasm. In fact, if there is anything wrong with my life, it is that I get excited about too little. Amen.
 
Thus when I tell you I have had the best pastry ever, know that such a statement, like all such pronouncements from me, can be taken for what they are worth: Gospel.
 
Thus I shall speak unto you: 
Go to Garden Bakery in Chinatown, on Jackson St. (just downhill from Stockton St.)
Walk in.
Order a "Lai Wan Bao" "Nai Won Bao" which means "egg custard bun."(my apologies to the Chinese.) (Ok Adrian, hit us with the translation)
Praise the Lord.
 
It looks like a large bun made of something like "Dutch crunch" bread but more yellow. The two I had (Well… I had to make sure the first wasn't a fluke! I SUFFER for you guys) were both warm and just slightly crunchy from being in the heater. The first bite is yummy, soft, slightly sweet bread, with a lightly crunchy crust – yum! But soon thereafter you hit the custard bomb payload at the center and then… then the angels start singing….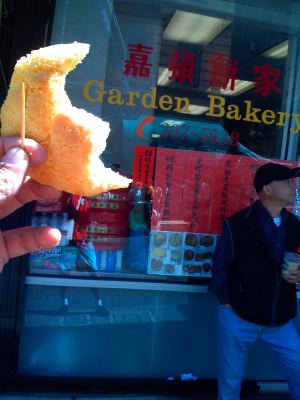 Get Thee To Garden Bakery (Jackson & Stockton.)
 
 
Hallelujah 
'deep
 
.ps
Ok, fine.  I didn't discover this on my own, there was a Moses involved:  Brian Kusler.  Brian & Kelly were introduced to this by their friend Adrian, who's family owns a shop nearby.  Brian then introduced this to me. Thanks Brian – though don't think I don't realize your nefarious homosexual chubification agenda! 
 
.pps
I can already hear Peat complaining " but Tartine Tartine" – get over it.  I nubs me some Tartine too, but this is the deal.  In fact, if anyone else has a different great pastry, leave it in the comments.  If enough do, then there shall be a Pastry Off!