So last week, I did the inevitable: I broke Trikeasaurus.
That's the bad news. The good news was that while attempting to fix Trikeasaurus, the whole episode turned into a simple yet immensely satisfying return to my North Carolina* roots.
You see, as I don't like cars much, I miss out on one of the great joys of my cultural heritage. Luckily the following image (after the jump) is as close as I'll ever get to a certain primal yearning that was programmed into me from my youthful surroundings:


Trikeasaurus Up On Blocks In My Front Yard!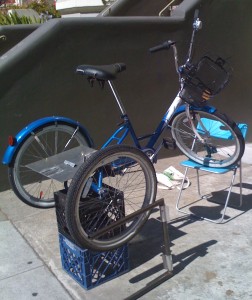 (click for closeup)
My life is complete!

(fear not Trikeasaurus fans – we'll be back & boomin' soon)
*or "North Cack-a-lackey" as we like to say – but where the hell does that phrase come from?