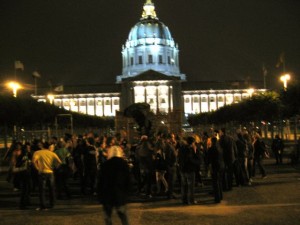 Thank You! Thank You! Thank You to everyone who made it to last night's FlashDance at City Hall! Sooooo much goodness & exactly what our hero needed 🙂 It was once again stupendous and makes me even more bummed that I did not manage to have a June FD – what was up with that?
Anyway from the Amazing Filipino(?) Dance Squad, to the Flava Flav impersonator to the Italian tourists it was awesome. And even the fact that we got busted and had to move locations all worked out well (see below!). Simply a great FlashDance! I hope you all had as much fun as I did & I can't wait for August (hint: we'll be hitting the same spot we always hit for August FD…).
Thanks again for making my night!
3 quick additional notes:
If you are not already signed up to get SMS updates on your phone – PLEASE DO!!! Last night showed how important these are since we had to move it was the only good way to find us. Instructions are here.
How did you like the music!? Leave comments! Hopefully you all loved it as much as I did. ever since the comments of a few FDs ago, I've been trying to broaden the musical selection whiles still trying to keep it BROADLY accessible. I've also tried to work in more requests and to generally play more than just my standards. How do you like it? At the end of the day, I'll always be playing primarily POP music (Sorry house/techno fans) – but I'm open to considering anything as long as I think a LOT of people will enjoy it. Let me know what you thought of last night if you were there… (below is my reconstructed playlist – I think a few things I played are missing….)
Flash – Queen
Never Gonna Give You Up – Rick Astley
Can't Get Enough of Your Love, Babe – Barry White
Material Mickey (Madonna Vs. Toni Basil Vs. Bay City Rollers Vs. Quiet Riot) – Matt Hite
Super Freak – Rick James
I See You Baby (The Gheewala Club RMX) – Groove Armada
Disco Club (Large Pro Peas Remix) [Explicit Version] – Black Eyed Peas
Harder, Harder, Harder, Harder! (Daft Punk Vs. Passions) – Electrosound
Sad But Superstitious (Stevie Wonder Vs. Metallica) – Wax Audio
Can't Get Enough of Your Love, Babe – Barry White
Love Today – MIKA
Low A Prayer (Madonna Vs. Flo Rida) – DJ Maxentropy
Let's Dance (ft. Busta Rhymes) – Brand Nubian
That Dude – The High Decibels
I Wanna Be Sedated – The Ramones
Get Down (Calvin Harris Remix) – Groove Armada
I Wanna Be Your Lover – Prince
Boyz – M.I.A.
When I See You – Macy Gray
Mercy – Duffy
Ain't That Peculiar – Marvin Gaye
Come On – Dexy's Midnight Runners
Right Here's the Spot – Basement Jaxx & Me'Shell Ndegéocello
Get Off Your Ass And Jam – Funkadelic
Shut-Up Remix – Black Eyed Peas
Faith – George Michael
Private Eyes – Hall & Oates
Raspberry Beret – Prince
Me And Julio Down By The Schoolyard – Paul Simon
Sometimes – Michael Franti & Spearhead
Rock With You – Michael Jackson
Don't Stop 'Til You Get Enough – Michael Jackson
We Can Work It Out – Stevie Wonder