Note: This is a horribly delayed post, but I was waiting for photos that did it justice (I need a camera crew for FlashDance and Trikeasaurus dammit!). Luckily, Brian, Mike, Whole Wheat & Bill came through. Anyway this is the one of 2 posts about LAST Saturday (11/15), not the most recent Saturday. The other post is from the FlashDance that night.
Also note that there are more pics and videos after the jump!

(Courtesy of Whole Wheat on Flickr)
Celeste and I were on our way to the Prop 8 protest last Saturday (11/15) & halfway there I started wondering whether we should go home and get Trikeasaurus. It was a bit of a debate because obviously you don't want to detract from the cause or trivialize it.
It's a tough call because the gestalt here in our fair city is strange: ecstatic, hopeful, and in giddy disbelief about Obama, but devastated, angry, and really heart-broken about Prop 8's victory. (It doesn't matter whether you are straight or gay – everyone I know is heartbroken about Prop 8.)
So what to do?
In the end, the gorgeousness and warmth of the day carried it. We figured "The Gays" + "sunny, gorgeous day" meant that in addition to being a protest, it was going to be a party.
So we turned around, went home, put together Trikeasaurus & headed out again.
It turns out we were right! PEOPLE LOVED IT and my wee trike became a bit of a rallying point. 🙂
Did I mention how much I love "The Gays" 🙂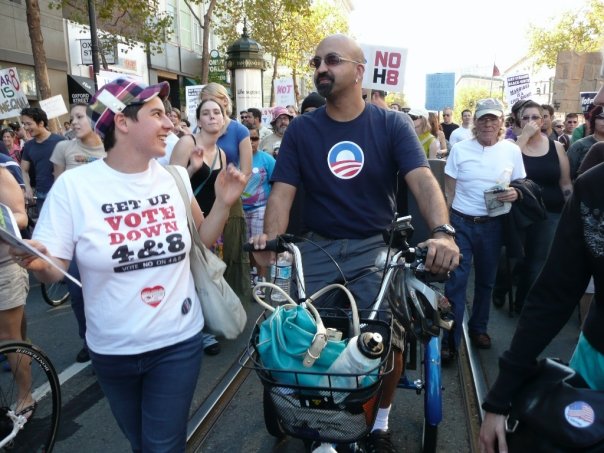 (Courtesy of Mike Holland)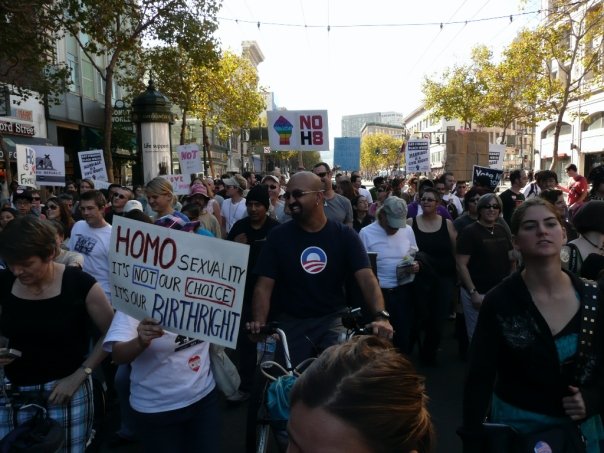 (Courtesy of Mike Holland)
I tried to keep the music "gay" & "love" themed (got a lot of ABBA & Madonna on) but the two biggest musical highlights were marching to MIKA's (fantastic) "Grace Kelly" and realizing how appropriate it was (it could even be about being gay):
Do I attract you?
Do I repulse you with my queasy smile?
Am I too dirty?
Am I too flirty?
Do I like what you like?

I could be wholesome
I could be loathsome
I guess I'm a little bit shy
Why don't you like me?
Why don't you like me without making me try?
And then the second highlight, which was by far the biggest slice of awesome, was Journey's "Don't Stop Believin'" a.k.a the song that has taken over my life. Someone suggested I play some Journey just as we were marching up to Powell & Market, and I hit DSB like I often do on Trikeasaurus. THE CROWD (AND ONLOOKERS) WENT WILD.
So since then, in addition to constantly playing DSB because I and everybody else around loves it, I've started getting on the mic & introing it with "To everyone broken hearted about Prop 8…."
🙂
Some will win some will lose some were born to sing the blues.
Oh the movie never ends. It goes on and on and on and on…

Don´t stop believing.
Hold on to the feeling.
(Thanks again for the videos Mike!)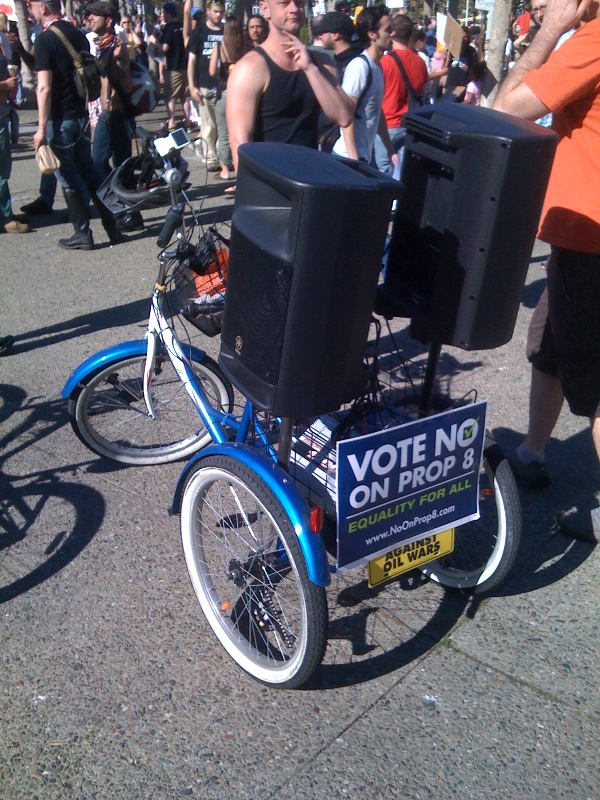 (Courtesy of Kevin Wilcock)
Celeste works the cute….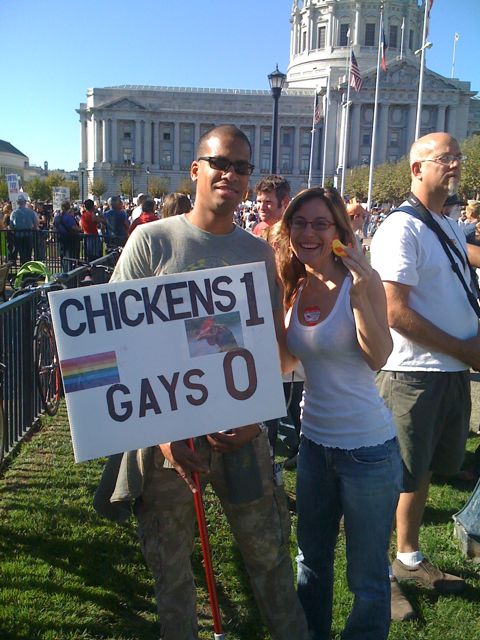 And, as usual BK takes great photos, here's one, but he has many….

UPDATE:
More Videos from Bill: