a.k.a. my first attempt to restart large-scale Halloween festivities in SF
Ed. Note:
Ok, it has taken me a month to get around to posting about my Halloween party. LAME. Sorry! I hope some of you (any of you?) are still interested.
If you are just looking for pix of this year's Halloween costume, check out the previous post … Rowrrrrr! (click here)
Finally, if you wanna skip my blather & see all the pics of the festivities (rather than the select few I've used here), I HIGHLY recommend Kevin Kranzky's pix (& video!) here, and Steve Rhodes pix here – BIG THANKS GUYS!
Also, feel free to send me copy-edits and the like for this post (or any others) – I never have enough time to do a decent job on them! I'd appreciate it!
Courtesy of Steve Rhodes
Late September: David Miles* (a.k.a. "D. Miles" a.k.a. "Skate Godfather") and I ran into each other and started talking about the need to remake a great Halloween party for San Francisco, in the wake of the demise of the Castro St. festivities.
Early October: My enthusiasm for the idea gets weighed down by my fear of getting smashed by the City and my fear that my Halloween costume will be a huge FAIL.
A week or so later: My continued fear about my costume began to be overpowered by the notion that something BIG and FUN needed to happen to fill the void of the old Castro Halloween. My fear of party failure, however, remained intact.
A week or so later: I realized that to attempt nothing was far sadder than a failed attempt. So, in my mind, it was ON. The biggest question mark was what would the City do if I tried to start a new free public Halloween party, like the Castro, but perhaps, eventually, even better? Would they shut us down? Throw us in the hoosegow? Look the other way? Realize that this was Good Thingâ"¢ and embrace our efforts? There was only one way to know…

October 22: I talked to D. Miles, wrote up an invite & sent it out to all my peeps, especially my FlashDance peeps. The idea was simple: the party would be like one of my FlashDances, but with more DJs and soundsystems than just mine! It would be like the Castro, but away from neighbors to annoy, and with a strong ethos of "costumes" and "fun" rather than "drunk" and "gawker".
As usual, I got the awesome Adrian Cotter to do a logo!
Later that day: I began trying to work various back-channels at City Hall to gauge their position and chance of shutting us down preemptively.
Days later: My invite had spread to the local blogs: the SFist, then SF Bay Guardian's blog & then SFStation. The Facebook invite was steadily gaining attendees. I began to hear numerous rumors that City Hall was aware of what I was doing & was planning on looking the other way as long as nothing destructive was happening & no traffic was being blocked…. I began to stop worrying about a shut down & started worrying about many other things 🙂
Friday, October 30th: Trikeasaurus breaks an arm during Critical Mass. The sound system was OK, but my ability to transport my sound system easily was compromised. Dag. Unbeknownst to me this was the beginning of many small tragedies that made for a tough weekend. At least my Halloween costume was finished. (I give it a B-.)
Saturday, October 31st: The numbers on my Facebook invite came in at around 550. I noticed that a great deal of them were kids from high school – which was great, but would they appreciate my kind of dance music? That became my primary worry. (I don't have any Jonas Brothers!) I also worried about the possibility of getting shut down, but not nearly so much. Would enough people show for it to be fun (at least 100). Would too many people show up who were more drunken-mob than fun & cool? There was PLENTY to worry about.
That night I packed up my gear and costume (Thanks Bob & Palak!) – made all the more difficult by the broken Trikeasaurus – & headed out to Justin Herman Plaza, nervous as hell.
I arrived to find somewhere around 500 (!) people already there and rarin' to go! Yipes! We were ON!!!
I immediately started setting up my equipment.
Within seconds 3 cops showed up and shut me down.
We were OFF!!!
The cops made it very clear that since I had no permit, if I turned on my sound system it would be confiscated. I was stunned. They were nice about it, but completely unyielding. Ugh. SO. DEPRESSING. I was really upset.
I think my contacts at City Hall did reflect City Hall's intent, but I wasn't dealing with City Hall, I was dealing with SFPD. And they were having none of it.
Anyway, I had planned slightly for this contingency (thanks Dan!), but was sure that whatever we did, the cops would just show up and shut us down again. So disappointing. It took me about 10 minutes to clear out my head and decide what to do: Yes, I was certain if we moved to a new location the cops would shut us down AGAIN. Which would mean just jerking everyone's chain a second time. But on the other hand, I felt like I owed it to everyone who showed up to TRY didn't I?
So, I sent out a message via SMS as to the new locale and biked off (in the opposite direction I needed to go). Minutes later I doubled back & arrived at the new location to find a news van already there (not good, they'd just attract cops) but we went for it (a bit aways from the van)… and started setting up shop & hoping people would show.
Pete's giraffe costume was one of my favorites. Courtesy of Beth Byrne
Within about 30 minutes, we had around 250 people 🙂 The new location was gorgeous (what a view!) and the people were, as usual, fantastic. D. Miles made it over with his lighting rig and sound system and we had a great FlashDance! Another DJ (go Blayze!) showed up and set up a second dance party near mine & D's. And this time, the cops never bothered us.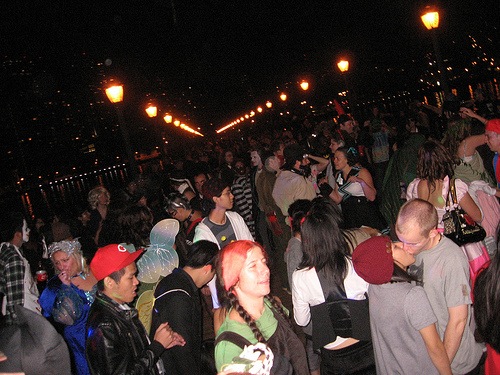 Courtesy of Kevin Kranzky
Many, MANY, many things went wrong that night** – but wow what a great time. Numerous people have told me that it was the best Halloween Party they'd been too and the best FlashDance 🙂 I really really want to thank everyone who showed to both parts of the evening, and give a special thanks to those who signed up for the SMS list & showed up at the backup location – you people rock! Thank you for making a GREAT night for everyone! And my apologize for the copsmack to all of you who just made it to the first location & not the second….
Now we just have to fix it for next year! No Copsmack in 2010! Here is Steve Jones's (my favorite crusading local journalist!) take on the SFPD's Halloween-stomping in the Guardian…
'deep
D. Miles on the mic, I particularly like the glowing Glamosaur eyes at the 30 sec mark. Courtesy of Kevin Kranzky
* David is the center of the roller disco folks in Golden Gate Park, and the man behind Black Rock Roller Disco at Burning Man. He has been throwing street parties for skaters for 30 years here in SF – D. is legendary. 🙂
** After our second set up, I was plagued by sound system problems perhaps due to moisture (that's my best guess?) – I'm really sorry for all the frustration the intermittent sound caused! And super thankful D.'s sounds system was there to take up the slack. Additionally, a forgotten-at-home hard drive meant I had to DJ from an iPod which is a good bit more difficult and a lot less fun. These and a lot of other small scale snafus really made the evening a struggle 🙁
Chomping the adopted little sis!
Glamosaur in DJ mode. Courtesy of Gretchen Ames