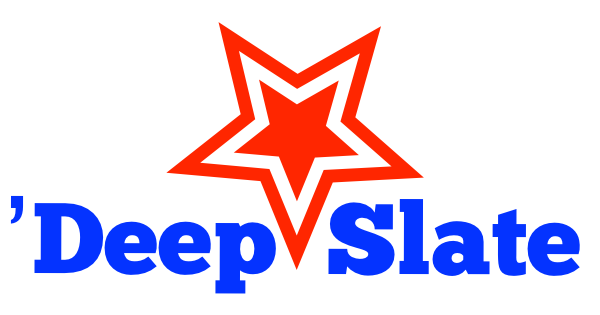 Hi folks. I'm writing you from Houston, Texas* where I'm managing a small field office for the Beto O'Rourke campaign for U.S. Senate!
There are some seriously good people here working their butts off to get us over this big Texas-sized hump! And this campaign's ground game is amazing.
So will Operation Deep in the <3¸ of Texas succeed? I guess we'll see in about 2 weeks! 
On a personal note, this is the hardest it's ever been for me to leave home to fight the good fight. I'm super thankful for Kimberly for being on solo-parent duty this week, even though she has a cold!
Anyway, all this Houston-ness makes me super-appreciative of our blue state, so please GO VOTE & make it even better.
(Also note, dear readers – we have some new Oakland & San Jose specific websites to recommend – check out the links in the Extras section.)
'deep
*Actually, I'm on the plane, on my way back now, finishing this up. I've been writing all week in between my duties and after we closed up shop for the day.
.ps: Let's start a new tradition: #votingstickerselfie AFTER YOU VOTE: take a pic with your voting sticker on your nose & hashtag it as #votingstickerselfie!
.pps: If you…
like what you read, please do let me know! Also questions, criticisms, comments welcome!
want to know where to vote, jump to the Extras below
want to get an email when I post the next 'Deep Slate, just email me!
WHAT IS THIS?
Every San Francisco election cycle, I put out my "'Deep Slate" voter guide: this post is my guide for this election!
The format of this post:
Also note that a few days after the election, you can come back & check the RESULTS by clicking here.
THANKS:
Thanks, as always, to the number of folks who have asked me for my opinions. I say it every time because it is quite true: I really am honored by your interest.
And big props to my lovely wife, for proofreading this and also for being so supportive of all my meetings & involvements!
So without further preamble, let's dive in! (damn, that was a lot of preamble)
THE LIST:
Note: If you just want this list as a handy, printable text version, just click here.
Also note: the more CAPITALS the stronger I feel about it – esp. on ballot measures.
STATE:
Governor: Gavin Newsom
Lt. Governor: Eleni Kounalakis
Sec. State: Alex Padilla
Controller: Betty Yee
Treasurer: Fiona Ma
Attorney General: Xavier Becerra
Insurance Comm: Ricardo Lara
Board of Equalization: abstain
State School Superintendent: Tony Thurmond
US Senate: Kevin de Leon
US Congress D12: Nancy Pelosi
US Congress D14: Jackie Speier
State Assembly D17: David Chiu
State Assembly D19: Phil Ting
Prop 1: Affordable Housing Bonds: YES
Prop 2: Housing Bonds for Mentally Ill: YES
Prop 3: Water Supply Bond: No
Prop 4: Hospital Funding Bond: Yes
Prop 5: Property Transfer Initiative: NOOOOOOO
Prop 6: Eliminates Transportation Funding: NOOOOOOO
Prop 7: Daylight Savings Changes: No
Prop 8: Regulate Kidney Dialysis Cost: No
Prop 9: (removed from ballot)
Prop 10: Allow Local Control of Rent Control: Yes
Prop 11: Private Sector Ambulance Rules: No
Prop 12: Farm Animal Conditions: YES
JUDICIAL:
All Yes.
SAN FRANCISCO:
Board of Supervisors D2: Nick Josefowitz
Board of Supervisors D4: Gordon Mar
Board of Supervisors D6: 1. Matt Haney 2. Christine Johnson
Board of Supervisors D8: Rafael Mandelman
Board of Supervisors D10: 1. Tony Kelly 2. Shaman Walton
BART Board: Janice Li
Assessor Recorder: Carmen Chu
Public Defender: Jeff Adachi
College Board: John Rizzo, Brigette Davila, Thea Selby
SF School Board: Allison Collins, Alida Fisher, Li Miao Lovett
(Monica Chinchilla)
Prop A: Seawall Bond: YES
Prop B: Privacy Bond: Yes
Prop C: Homeless and Low Income Housing Business Tax: YES
Prop D: Cannabis Business Tax: Yes
Prop E: Hotel Tax Distribution to Arts & Cultural Programs: Yes
Again, if you want these as a handy, printable list, just click here.
THE DETAILS:
Note: the more CAPITALS the stronger I feel about it – esp. on ballot measures.
STATE:
(NOTE: I copied some of these state race write-ups from my June "˜Deep Slate. Don't judge until you spend a week writing a voter guide 😜.)
Governor: Gavin Newsom
Governor Newsom? President Newsom? NEWSOM FOREVER!!! I luvs him sooooo much. 
SIGH.
You probably don't realize how sarcastic I'm being. Let's try again…
Newsom could be fantastic, but he never is. Maybe being Governor will give him a chance to put some real substance behind all that charm & good intention. Like I said back in June:
After seeing him up close for so long, he was all flash and no substance: so many amazing press conferences & so little good policy. The LA Times nailed it (in their endorsement of Villaraigosa):
Critics, however, describe Newsom as a whirlwind of ambition, lacking in core values and meaningful accomplishments, with little demonstrated ability to build alliances and coalitions.
It's a pity too, because I think he has the charisma, intelligence, and instincts to be a great leader… but he just doesn't deliver.
Anyway, he's winning, big. And that's a good thing, because John Cox, the Repub-du-jour is AWFUL. 
PLEASE SURPRISE ME GAVIN.
Lt. Governor: Eleni Kounalakis
Here's what the California League of Conservation Voters says:
As Ambassador to Hungary, Kounalakis pushed their government to become the first signers of the Paris Climate Accords. Now, Kounalakis is making addressing climate change and protecting the environment a centerfold of her campaign, including her pledge to oppose offshore oil drilling on State Lands Commission.
Done. Next.
Sec. State: Alex Padilla
Controller: Betty Yee
Both Padilla & Yee have done a good job (incumbents) by all reports & are also running practically unopposed. Done. 
Treasurer: Fiona Ma
Ma was a really poor SF Supervisor but has improved to "reasonable" in her time in Sacramento. She did good work rooting out corruption and other ills at the Board of Equalization during her stint there & thus I expect she'll do a reasonable job as Treasurer.
Attorney General: Xavier Becerra
Becerra is the real deal according to every source I've checked with – here's what the League of Pissed of Voters says (& I agree with them 100% on this)
He's the first Latino Attorney General and is widely seen as leading the "California resistance," filing tons of lawsuits against the Trump administration – about the travel ban, DACA, the border wall, sanctuary cities, birth control, the ban on trans people in the military, student loans, etc
Insurance Comm: Ricardo Lara
State School Superintendent: Tony Thurmond
I don't know much about these two but they both have impressive endorsements, including Sierra Club & the CA League of Conservation Voters, which is good enough for me.
Board of Equalization: abstain
After years of being duplicative of the Franchise Tax Board at best, and a nest of corruption and nepotism at worst, the Board of Equalization has been reduced to doing almost nothing. It needs to be dissolved so I suggest you abstain from voting for it. If you're curious, a good place to start is the Chronicle's editorial.
US Senate: Kevin de Leon
Our incumbent Senator, Dianne Feinstein has impressed me with her thoughtfulness and deliberation through this whole Kavanaugh mess. As the Sacramento Bee put it, it was nice to have an adult in the room. In this bleak era of Republican control of everything, she is, frankly, a stalwart and I appreciate that. The good news, in that regard, at least, is that she's going to win. Easily, it looks like.
That all being said, I'd like to inform the Senator that at least some of her constituency is way to the left of her. She's done some great work on creating national parks in Joshua Tree & and Death Valley, and her tireless (if constantly frustrated) work on gun control is fantastic. That said, on the Iraq war, healthcare, and full-bore resistance to Trump, she's been disappointing. 
DeLeon, on the other hand, seems more of a firebrand – for better and for worse. I like a lot of what he has to say & where he's coming from, and though it looks like he's going to lose this one, I hope he stays on the scene & learns from his mistakes.
US Congress D12: Nancy Pelosi
I write literally the same thing about Pelosi every 2 years:
 

Nancy Pelosi is practically unopposed and she does really pretty well at the Federal level. No, she doesn't completely represent my values, but if you spend twenty minutes considering how much CRAY CRAY is in Congress these days, you'll thank your yoga mat that someone who thinks even vaguely similar to San Francisco has any power in our nation's capital. Done, move along.

 
All that seems more true than ever to me. 
US Congress D14: Jackie Speier
I don't know tons about Congresswoman Speier but the Sierra Club and others have endorsed her. Good enough.
State Assembly D17: David Chiu
State Assembly D19: Phil Ting
Both are running fairly unopposed, are good votes in Sacramento & should return. I really should do both these guys a better write up, but there's a lot to write still & …. both the Sierra Club & the CA League of Conservation Voters are on board. Done.
Prop 1: $4 Billion Housing Bond: YES
Yes. With a side of Yes Please!
As you no doubt have noticed, our state needs a TON more housing and this is part of the solution. If it passes, the state will sell bonds to investors so they give us the money to build & we pay them back with interest. We need it, and bond funding is how we do these large projects so YES. Easy peasy.
If you're saying "But wait! Bonds are basically loans & I don't like taking loans". Well, you're right that they are effectively loans. But taking loans for things that will gain in value over the years (like say, an education) is a usually considered a good thing, while taking loans for them things that lose value over the years (like a car) is considered a bad thing. Housing accrues value. Also, we'll also only be spending a tiny 0.1% of the state budget every year paying this back (for the next 35 years).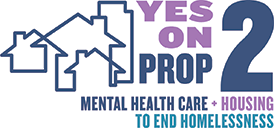 Prop 2: Housing Bonds for Mentally Ill: YES
a.k.a. Clarifying Mental Health Funding Issues
More YES Please. And easy.
In 2004, we passed Prop 63, essentially taxing incomes over $1 million (rich folk) to expand mental health programs & treatment. The intent was always to expand access to care by getting dedicated funding. However, some possibly-well-meaning-but-nonetheless-wrong folks have argued that supportive housing for mentally ill does not fall under "treatment" , so the money we're collecting should not be used for housing.
Practically everyone else who works in the field, however, disagrees & sees stable housing as a critical component in helping the homeless mentally ill. Which seems obvious. Thus, this measure clarifies the intent of Prop 63 to allow those funds to be used to repay housing bonds to finance such supportive housing.
Done.
Prop 3: Water Supply Bond: No
a.k.a Yet Another Water Bond – This Time Bigger and with 🠷!
This is a surprisingly tough one for me. This $8.9 billion bond authorization (as opposed to $4.1 billion back in June) will fund all kinds of necessary & good water projects in the state…but it's also loaded down with some bad baggage – which makes me say no, in the end.
The good stuff, like funding GREAT climate change resilience work for our very own San Francisco Bay, is why groups I trust, like Save the Bay have endorsed it. Their argument is worth considering:
Proposition 3 will add crucial state funds to improve the Bay's health and resilience to climate change, especially important at a time when the President and Congress are trying to reduce federal investments in the environment. It is vital to commit more funds to the San Francisco Bay Restoration Authority while California's economy is still booming and voters are open to approving bonds.
As such, I was leaning "yes" until I read this bit from the Sierra Club, who opposes it:
The bond appropriates cap-and-trade revenues from the Greenhouse Gas Reduction Fund to State Water Project and Central Valley Project water agencies. … The appropriated GGRF funds could be spent on water conservation or other programs that the water agencies are currently funding from water sales revenues, providing little to no net reduction in greenhouse gas emissions. The impact on the GGRF is unknown, but could be substantial and siphon funds from other important projects that will cut climate pollution and air pollution.
WAAAAIT. What now? Taking climate change funding & diverting it to water projects that we already could get funding for. Oh HELL No.
And then to add insult to injury, here's another good reason to oppose it: While the previous water bond was produced by the legislature, this one was placed on the ballot (in large part) by the agribusinesses who stand to gain from it. From the San Jose Mercury News:
They instead simply went behind closed doors and concocted this initiative, loaded up with water projects that would draw campaign funding from those who would eventually benefit. They were also political savvy enough to put some projects on the Prop. 3 laundry list "" think safe drinking water and cleaning up the San Francisco Bay "" that would pull at voters' heartstrings.
Let's say no, and try to do this right later.
Prop 4: Children's Hospitals' Renovation Bond: Yes
$1.5 billion dollars in bonds to renovate & upgrade our very necessary Children's Hospitals. There is some good criticism of this bond on the ground that we should use bond financing for things we couldn't pay for out of the general fund & this one could be. Also, a significant amount of the money of this bond is going to private, not public hospitals.
But even those hospitals take low-income folks (& get payed back by below-market federal rates) so I think on balance it's fine. The hospitals do good work, and everyone deserves access to high quality medical attention – especially kiddos.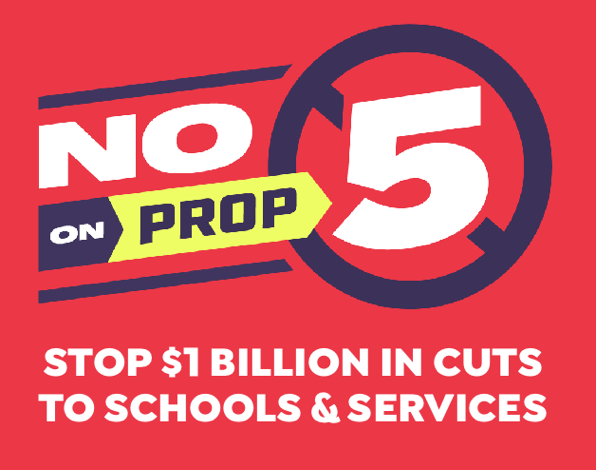 Prop 5: Sneaky Lame Prop-Tax Wealth Redistribution of the Rich-Get-Richer Variety: NOOOOOOO
This is ballot initiative is a sneaky & evil generational wealth transfer of the worst kind. Less for schools to make life easier for older folks who want to buy new homes. 🤬
Basically, the CA Realtor's Association cooked up this scheme to allow older homeowners to buy (& move to) new houses whenever they want and continue to pay the lower property taxes they probably had. And they can do this no matter how many times they move. They argue that this will free up more housing as people move.
What it will really do is devastate our schools and local governments (who rely on property tax funding) – we'll lose about $100M a year for the first few years and then we'll start losing around $1B a year.
Grrr.
Prop 6: Eliminates Transportation Funding: NOOOOOOO
OMFG DON'T GET ME STARTED I HATE YOU SO MUCH.
Deep breaths. Ok. Coherent sentences….
This measure will repeal the "Road Repair and Accountability Act" passed last year. That gas tax measure basically charges the people who drive to help pay for the infrastructure they use and to help build better options. Of course, Republicans see opposing taxes for important government services as an opportunity to excite the base and have put this 💩 on the ballot.
There is a solid and reasoned argument to be made for why this is wrongheaded but I'm incapable writing it at the moment. Luckily, the Chronicle's write up is really good, and they kindly refer to the initiative as follows:
Proposition 6 is a cynical political ploy that will starve California's already-crumbling transportation networks, and it may not save drivers any money. Vote no.
Or as SPUR puts it:
Much like the effect of 1978's Prop. 13, the detrimental impacts of Prop. 6 could last for decades. 
Prop 7: Daylight Savings Changes: no 🤷🠽" ™'ï¸
This measure would allow CA's legislature to move us off Daylight Savings Time, if the Federal government allows it.
I was mildly in favor of this measure because who likes all that "spring-forward, fall-back" mumbo jumbo anyway? Then someone pointed out that if we moved off DST, sometimes the East Coast would be two hours ahead, sometimes three – which would lead to brain explosions. Then I figured we'd probably have moved to a national "non DST" time world by then, so "sure" – but other friends piled on with concerns about how early dawn would be, and the fact that it has been tried and universally loathed.
In the end, it is hard to feel strongly about this. I see upsides both ways. It would tip me if there was possibility for energy-use benefits, but as near as I've read, the results are inconclusive.
So I'm no, because it would be hard to figure out if my Duke basketball games (largely played on the East Coast) were televised two hours or three hours ahead.
.ps You really should take a look for yourself at this REALLY COOL visualizer on the Ballot.FYI site (the slider in the middle of the page).
Here are some static images from the visualizer – but seriously go play with it!
Shortest day under proposed year round DST:
Longest day under proposed year round DST:
From this, it doesn't seem all that bad. 🤷🠽" ™'ï¸
Prop 8: Regulate Kidney Dialysis Cost: No
a.k.a. Labor dispute inappropriately on the ballot. Great.
Prop 8 will set limits on how much outpatient kidney dialysis clinics may charge for patient care (to 115% of direct patient care costs) in an effort to force these companies to plow some of their remarkable profits (see John Oliver below), back into their employees. Which may or may not be reasonable…
…BUT WHY IS THIS ON THE BALLOT?!
Because there is a dispute between the healthcare workers union (SEIU) & the two biggest for-profit companies. While the union may have valid points, they got this on the ballot to force the firms to spend more of their profits on their employees (because they can count that as "direct patient care costs" ). This is lame. My friend Alix puts it really well:
Even though I usually side with unions, I'm certain that this is not the kind of thing that should be regulated by ballot measure. As you know, a ballot measure can only be amended or repealed by another ballot measure, and that's no way to govern a state. Super detailed, highly technical laws should NEVER be passed by ballot measure because they usually need adjusting over time, and that can't happen if they are approved by voters. Moreover, if this measure passes, and dialysis clinics start going out of business, it jeopardizes access to care for patients in California who need dialysis treatments to stay alive. SEIU should make its case in court, or with the legislature, or the National Labor Relations Board, anywhere but the ballot box.
This just has no business being here. Enshrining what essentially amount to contract negotiations into the "founding documents of the land" is a bad idea in numerous ways – see the "ballot measures suck" bullet below for details.
So NO.
.ps John Oliver did an in depth look at the Kidney Dialysis Racket last year & it is, as usual, a powerful and funny expose. These companies do seriously suck. That doesn't mean I think this should be on the ballot though.  This is nonetheless, seriously well worth the time to watch. (Thanks BallotFYI for pointing it out…)
John Oliver on Kidney Dialysis
Prop 9: This proposal, regarding splitting California into 3 states (😳!) was to dropped pending legal issues.
Prop 10: Allow Local Control of Rent Control: Yes
Wow – this is a tougher one than I thought. For me, rent control feels like a no brainer. And while I'm still "Yes," I can see why thoughtful people would be "no."  
But first, what are we talking about?
Prop 10 will repeal 1995's Costa-Hawkins Rental Housing Act which limits how much rent-control local governments in California can impose. In San Francisco, for example, this has frozen our rent control to only apply to units that were built before 1980, amongst other things. If Prop 10 passes, San Francisco and other localities would be free to apply their own rent-control ordinances in whatever ways they see fit.
While we'd be free to make up whatever rent control we'd like, things get tricky:
Everyone agrees that rent control is not a real solution. The *real* solution is building a TON more housing… but that's hard (for us 🤬) and takes time. Since we're not building enough housing fast enough the argument goes that we should have rent control.  
But the SF Chronicle (& SPUR) both make pretty convincing cases against it – here's the Chronicle – 
Much like trade barriers, rent control enjoys persistent political and popular appeal despite its nearly universal rejection by economists. Its benefits accrue to those renters who happen to occupy the controlled units, who become a devoted lobby for the policy, at the expense not only of property owners but also of other tenants. Most alarmingly for a state with a crushing housing deficit, rent control tends to reduce the quality and quantity of rental housing, the construction and maintenance of which is discouraged by price caps.
Wow. So why am I still yes?
Not so fast: some economists disagree, and some of the analyses have raised significant questions. I particularly like this study from the Berkeley Haas Institute* that demonstrates that rent control can be used well and doesn't have to have all the downsides opponents imagine. They also point out upsides I hadn't considered, such as the notion that that public benefits, like neighborhood improvements, disproportionately benefit landlords by increasing rental values. It hurts tenants without rent control, so rent control is one way to level the playing field.
Similarly, the LA Times points out that there are various good local tweaks that could be used such as "rolling rent control" (apply rent control to buildings as soon as they reach, say, 20 years old) that would mitigate some of the problems with rent control dis-incentivizing new housing creation.
Ok… so how to vote?
The core problem is that we just aren't building enough housing – we Californians seem to hate both density and sprawl…grr! We're not fixing that issue soon enough and need to do *something* in the meantime. This is that something… with local control we'll have options to tweak the implementation to avoid some of the downsides and provide real relief.
Again, the LA Times:
The root of California's housing crisis is the lack of supply. The state needs to build 1.8 million more homes by 2025 just to keep pace with population growth; it would need 1.7 million new homes on top of that to satisfy pent-up demand and stabilize prices. To even get close to that number would require a building boom unlike any California has seen since the 1960s.
In the meantime, cities need to be able to respond to upheaval and suffering caused by rapidly rising rents. 

…
Local governments are on the front lines of managing homelessness, displacement and gentrification. They need the ability to stop the bleeding. Proposition 10 would give them an additional option for helping those at risk of losing their homes. Proposition 10 isn't the solution to the state's affordable housing crisis, but it is a valuable tool to manage the consequences.
So, yes.
* (hat tip to The League of Pissed Off Voters for pointing this article out to me)
Prop 11: Private Sector Ambulance Rules: No
Ok – read everything I said about Prop 8 & replaced "kidney dialysis" with "emergency services" and you'll understand my "no" vote. This should be handled at the legislature, not on the ballot. In fact it kinda was, but then got stalled and was brought to the ballot by the ambulance companies to end-run negotiations. I'm too tired of writing to do this justice, but BallotFYI did a great job:
In 2016, the CA Supreme Court ruled that security workers were no longer required to keep their radios on during their scheduled breaks. Suddenly, on-call breaks became illegal (but not explicitly for ambulances) and it prompted EMTs to file similar lawsuits against ambulance companies. These suits are still ongoing.

The following year, labor unions and private ambulance companies tried to work it out in the state legislature, but the two sides couldn't reach an agreement. In an attempt to stave off more lawsuits and labor union policies, American Medical Response, the country's largest ambulance company, spent $7.8M to put Prop 11 on the ballot.

Prop 11 would also absolve private ambulance companies from any liability they might have incurred since that CA Supreme Court ruling, such as not paying workers during their previously interrupted breaks.
To get further into the weeds (and I mean weeds, because this shouldn't be on the ballot): both sides, the unions & the company, agree on the basics of the solution, but there are two remaining issues they haven't worked out (from the really good Chronicle editorial):
The union representing 4,000 ambulance workers agrees with the need for a fix. In fact, it supported AB263, which spelled out that employees could be required to monitor pagers, radios, station and alert boxes, intercoms, cell phones and other communications devices during their breaks "" and could be required to answer an emergency call. That bill cleared the Assembly on a 56-17 vote on June 1, 2017.

However, that bill stalled in the state Senate over two key issues: One was whether the interruptions could include less serious calls; the other was whether the legislation should effectively void pending labor-related lawsuits against American Medical Response, which also happens to be the funder of Prop. 11. Those workers should not be denied their day in court. This issue should be resolved in the Legislature, with all parties at the table to negotiate and compromise. Vote no on Prop. 11.
 So in the end, vote No – this shouldn't be on the ballot. (Here's why.)
Prop 12: Farm Animal Conditions: YES
Do you eat meat or eggs? Do you care that the animals that feed you are treated decently?
So do a lot of Californians (luckily), so in 1998 we passed Prop 2, which was an attempt to improve the lives of animals farmed for consumption. It stated that they must be able "to lie down, stand up, fully extend their limbs and turn around." This made for a lot of improvements, and probably got places like McDonald's to buy more humanely treated meat, but it fell short in some significant regards. For example, Prop 2 was a bit vague and it didn't have much of an enforcement mechanism "" which means that it hasn't helped nearly as much as it should!
Prop 12 aims to fix those issues by explicitly setting space minimums for various livestock animals (see below), require all egg-laying hens to be cage free by 2022, and by requiring the state's Department of Food and Agriculture to provide enforcement.
Vote YES.
If you want more details, read Ballot FYI's excellent write up. They also commissioned the artist David Goligorsky to show the minimum space requirements Prop 12 stipulates (GREAT IDEA) – check it out:
JUDICIAL:
Supreme Court & Appellate Court Races: 
All yes.
California gives us the right to approve State Supreme Court Justices & Appellate Court Justices. Presumably, this is designed to give us, as the public, some ability to have democratic oversight of these judges. After the Kavanaugh horror show, I'd really appreciate a real chance to be heard; I also get the idea that the judiciary should just be judged on competence for the job, not political bent.
It's really hard to find info on these races. The best I've found is this editorial form the LA Times, which agrees with my sentiments exactly ("How convenient!", you say? "Shuddup" I say!). The whole editorial is well worth reading and explains these ballot items clearly and concisely.
Again, voters should say "yes" "" as they should for judges and justices generally, absent any serious concerns about their fitness for office. Retention votes support independent courts that make decisions based on the law and not on popular sentiment or political partisanship.
I've also found a few progressive circles that knock several of the justices for particular rulings, but to me, that seems like a really bad idea. Here is what I wrote back in June:
I still insist that the fact that the election of judges can't be done on anything but resume and record means that it is ill-suited for elections. On what basis can we make a reasoned choice? Some would say "from their prior cases" "" but that kind of standard is fraught with difficulty, in various cases the judge has severe limitations on what they can do, also without hearing and knowing all the details of the case it would be very easy to second guess almost any decision if spun right. I'm not saying sitting judges are always right, only that a popular vote is not the right way to address issues with sitting judges.
SAN FRANCISCO:
Board of Supervisors D2: Nick Josefowitz
District 2 hasn't had a good Supervisor since the Paleolithic. The current supervisor, Catherine Stefani, though perhaps better than most, is not great: She's blocked bike share in District 2 (ever wonder why Ford Go Bike doesn't go to the Marina?) amongst other lame positions. 
But the good news is that we have a real shot at electing someone GREAT as a District 2 Supervisor! Nick Josefowitz is an environmentalist, a successful clean-tech entrepreneur, and a current BART Board member. 
As an environmentalist, he's great on transportation and land use issues, is passionate about clean energy, climate change, and about everything you'd expect (we at the SF League of Conservation Voters love him). But his abilities are even broader than that: he's smart, he sweats the policy details and he has a clarity of vision and thought that I think will serve him well on the Board of Supervisors.
If you live in D2 – Pick Nick!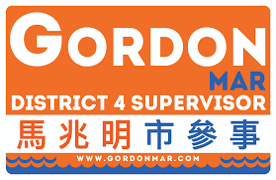 Board of Supervisors D4: Gordon Mar
Gordon Mar has been a labor and community activist for 20 years and has spent many years working on the ground in progressive causes in San Francisco. He's focused on building affordable housing in District 4 and is clearly the best choice for D4.

Board of Supervisors D6: Matt Haney
Matt Haney, Christine Johnson, and Sonja Trauss are the top contenders for D6's Board of Supervisor's seat which has become this cycle's hottest race. In many ways, this has been Matt Haney's race to lose, as he's been the front runner (for good reason) for quite a while. But a massive $100,000 Super-PAC donation from Ron Conway (Grrr!) & a team-up of the the second two (to improve their ranked choice voting chances) have made it a real contest.
That being said, Matt Haney, remains the best choice. It's kinda hard to know where to start. Matt is dedicated (as hell), smart, principled, and hard working. He's been tireless on the School Board and in everything he attempts. He's pushed for a more equitable and green SF school system, has been a community activist on social justice issues for a long time & basically is just the real deal. Oh, he's also been a lawyer focused on tenant's rights. And you don't need to just ask me, please check out his endorsements page, if there is somebody who's opinion you respect, they are on there.
So what about the other two? Well, here is where it gets interesting. I actually think Christine Johnson would probably make a good supervisor. She really impressed us at the SFLCV with her thoughtfulness, intelligence, and experience, and demeanor. I was all prepared to endorse her as #2. But then this team up with Trauss happened, and this huge super slimy SuperPAC campaign to defeat Haney showed up.
Sonja Trauss is a fascinating figure, and a firebrand. She's basically built her political base from scratch by founding BARF (now thankfully renamed YIMBY) – which is a pro-density renter's association. And while, I, as an environmentalist, agree fundamentally with a lot of that, the way her group and (sometimes herself) carries themselves, is mean-spirited, needlessly confrontational, and arguably racist. So, while I appreciate some of the things she is interested in, she does not pass my "plays well with others" test.
So in the end, I think the best choice for a D6 voter is a single vote for Haney to increase the chances of his winning.
Board of Supervisors D8: Rafael Mandelman
On top of being fantastic, Rafael is running unopposed (by virtue of him beating the only serious challenger in June). So if you live in D8 – the choice is crazy easy.
Board of Supervisors D10: 1. Tony Kelly 2. Shaman Walton
This is a tough call for me, but at the end of the day, if you asked me what Supervisor I think will do the best job for District 10, it's Tony Kelly. Kelly is a long time community activist who has been on the ground, working to improve D10 at a grassroots level for about 15 years. As we said over on the SFLCV site (in our 2nd place endorsement):
Tony has a long history of civic engagement, advocacy work, and community leadership in D10. His unwavering passion and deep knowledge of environmental and community issues, especially around the Shipyard cleanup and the power plant closure, demonstrate he will continue to fight for D10 at City Hall.
So why was this at all a tough choice? Well, the front-runner in this race, Shamann Walton has done a good job as School Board president, and as District 10 is a traditionally African-American neighborhood, there has often been a sense that D10's Supervisor should be African-American.
Shamann is African-American, Tony Kelly, a white man, is not.
I can't pretend to be able to untangle the difficult notion of the value of identity representation, or the falsity of "colorblind choice" in the time I have to write this. But as I've struggled with this endorsement, I've come to realize that while I think Walton will likely make a good Supervisor, I really do think Tony will make a better Supervisor for D10.
1. Tony Kelly 2. Shaman Walton
BART Board: Janice Li
We have at least 2 great candidates for BART Board & hopefully 1 will win. I've worked with Janice Li for years since she's on the San Francisco Bicycle Coalition staff & I've found her to be super-smart, passionate, and thoughtful. She'll bring a fantastic perspective as a long time transportation advocate to the BART Board. She'll be great for this. (If you're wondering, the other great candidate is Melanie Nutter, you can read about her considerable bona-fides at SFLCV.org.)
Assessor Recorder: Carmen Chu
I've never found any particular reason to be impressed with Carmen Chu, but by all reports she's running her office ably enough. That's a low bar, but that's what we got. meh.
Public Defender: Jeff Adachi
Adachi has been a good public defender, independent, smart, and not afraid to do what he thinks is the right thing to do. He's also running unopposed. Yes. next.
College Board: John Rizzo, Brigette Davila, Thea Selby
I've worked with Thea on various transportation measures (Yes on A & B / No on L) and think she's smart, thoughtful & committed. John Rizzo is a long-time environmentalist workhorse, and has done good work on the College Board for years – they are both no-brainers. I don't know as much about Brigette Davila, but the Guardian makes a solid case that these three incumbents, who saved City College, should be retained:
Our endorsement of three incumbents is an encouraging confirmation that one of the city's most important institutions has survived a brutal attack and is generally in good hands. The board stood up to a rogue accreditor, kept City College alive, worked with the supervisors to make City College free, and is on track to move the school forward.
I agree.
SF School Board: Allison Collins, Alida Fisher, Li Miao Lovett (Monica Chinchilla)
School Board candidates are difficult to pick & this year, we at the SFLCV did not interview them. That being said, we got questionnaires from all these 4 and they were the standouts for the SFLCV. There are 3 seats, so you should drop one. Personally, I slightly preferred the other three candidates' experience over Chinchilla's so I gave them the edge.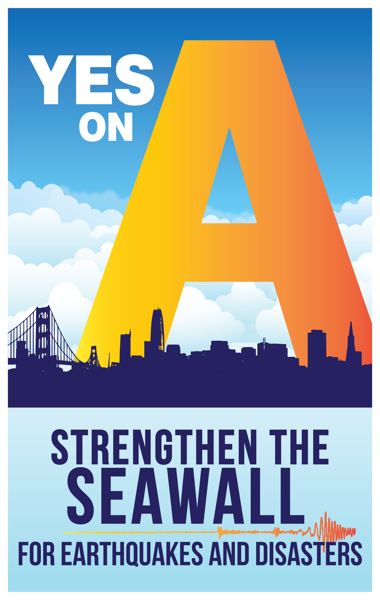 Prop A: Seawall Bond: YES
This one is super easy – yes.
Our seawall, which would be critical infrastructure, even if we didn't live in an era of rising seas, is in serious need of repair. This is the right way to get the money to repair – general obligation bonds. Nobody but the nut job Libertarians oppose this. (Their best argument is specious: "The businesses along the water should pay for it" – as if those businesses were the only ones who benefit from having a City waterfront.)
Read the good SFLCV write up if you want more details.
Prop B: Privacy Bond: Yes
Prop. B is a first step to having a citywide approach to data privacy, setting guidelines for how the City can collect and manage personal data. The guidelines would include things like requiring companies to inform their users of their data collection policies, allowing users to access whatever data is collected, not tracking users, etc etc. Good stuff.
It's non-binding, but requires the City to come up with binding legislation by the middle of next year to implement the guidelines.
All of this is pretty good and non controversial, at this point. It does, however contain a controversial bit: it will allow the Board of Supervisors the ability "to amend voter-approved ordinances regarding privacy, open meetings, or public records, provided that any such amendment is not inconsistent with the purpose or intent of the voter-approved ordinance."
This has some people crying foul because they are worried that this will be an attempt to gut our government transparency laws (a.k.a. the Sunshine Ordinance) which requires City government to be transparent in several ways. Honestly, I think this fear is waaaaaaay overblown, since this law stipulates that the intent of the Sunshine Ordinance must be maintained. Furthermore the cumbersome & somewhat outdated Sunshine Ordinance is actually a GREAT example of a piece of legislation needs to be updated and amended, but can't unless authorized by another ballot measure
Vote Yes.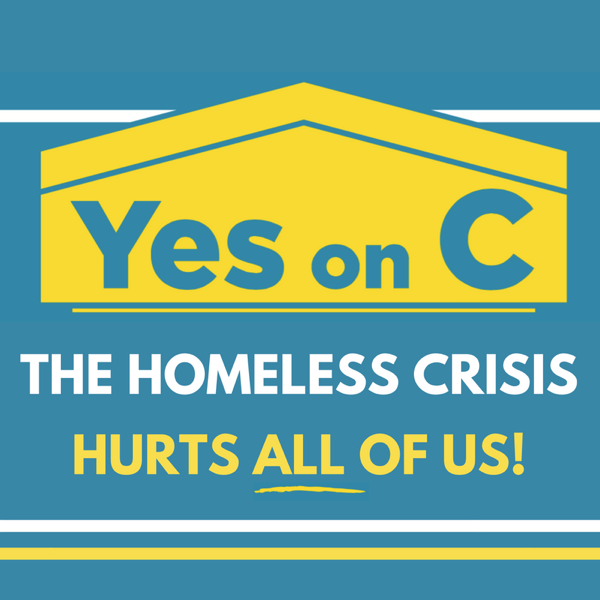 Prop C: Homeless and Low Income Housing Business Tax: YES
A whole bunch of YES.
Prop C is a gross receipts tax on the City's largest businesses to secure stable and long term funding for fund several categories of homeless and mental health services. Estimates put this funding to the tune of $250 million to $300 million a year.
Everyone agrees that the best way to deal with homelessness & especially mentally ill homelessness is supportive housing: housing with associated support medical and mental health services. But supportive housing is expensive. This measure would provide that funding in a significant way.
The catch? Well, we'll be adding an additional tax to the top tier companies who already pay about 40% of our business taxes. What happens if they leave San Francisco to less-taxed pastures?
Proponents of C argue that the new taxes we are levying on them are equivalent to their Trump tax breaks and so it nets out to zero, but that's farcical: Every company in the country got that break, so if companies located here just leave San Francisco, our tax disappears & they go back to having their (ridiculous) Trump tax break.
The thing is though, I don't think they will leave – San Francisco is a magnet for topflight tech talent & I see significantly reducing the homeless problem only helping in that regard. Vote Yes – this may well be the breakthrough approach we need.
Update: I just read State Senator Scott Wiener's No on C argument, and he makes a lot of good points, especially regarding the fact that this ballot measure is poorly crafted. And to me, this points to the fact that ballot measures suck. I nonetheless will be voting yes, because this problem has gone on too long & this solution is better than it's flaws, in my opinion. But reasonable people can disagree.
Prop D: Cannabis Business Tax & Tax on Outside Businesses that Operate in SF: Yes
This prop will do two things:
Add a new tax to businesses selling cannabis-related products (unless for medical use)
Tax companies that do business in SF, but aren't located in SF
Everyone is talking about the first one & there is less discussion of the second. 
The cannabis tax seems to be universally respected as well constructed and thoughtful & fair. The debate seems to center around whether it is a good time to start taxing this nascent industry, as it might be at a delicate stage and whether adding this tax, will increase prices enough to push people back to buying black market cannibis. (This whole discussion is actually super wonky – the best write up I've seen, in all it's detailed glory, is at SPUR.)
The second part of this remains somewhat mysterious to me: I get that this will allow the City to tax that online businesses like Amazon, Etsy, etc, just like brick-and-mortar stores, but I don't understand how we'll be able to collect it? [Ed. Note: If anyone can explain this to me, please do!]
I'm for the second part, and in theory I'm for the first part – but black-market marijuana farming has been a real environmental problem on a significant scale: illegal farming operations in our national & state parks have been a serious issue, and the energy use from indoor growing is significant, so I'm tempted to vote "no." But the fact that SF is the last major California city to pass some sort of additional cannabis tac, leads me to think we won't be the thing that makes cannabis sales go underground again.
Prop E: Hotel Tax Distribution to Arts & Cultural Programs: Yes
I'm a little leery of this one, but end up at "Yes."
This measure would set aside 1.5% of San Francisco's 14% hotel room tax to fund arts and cultural programs again. Since the hotel tax goes into the City's general fund these days, this means that this money, to the tune of $35 million (not a lot in the scheme of our $11 billion city budget), will not go to other city services.
The problem here is that we really shouldn't make set-asides for things: A set-aside guarantees the same amount of funding be taken from the City's general fund every year for the given program. The problem is that in lean years, set-asides then squeeze out funding for other important things, and generally reduce our government's flexibility. That is fine for public good that is almost always difficult to prioritize like say libraries or parks, which chronically get de-prioritized, leading to deferred maintenance and more expensive fixes when the money finally does get appropriated, but a really bad idea for normal expenses. We have 19, or as BallotFYI/ByTheBay puts it: 
Prop E reallocates $35M/year into a set-aside fund for the arts, but SF already has 19 set-aside mandates, more than any other large city in CA. To put it into perspective, LA has two. These set-aside funds make up 30% of the City's $5B general fund, which is the City's source of discretionary funding.
So should we have another one for the arts? Possibly, art is a public good, but I'm leery of set-asides. But, in the end I'm a yes, because the hotel tax was originally set up in the 60s to help fund arts. In the 2000s, when our budgets were tight, we started siphoning off these hotel tax funds into the general fund. Now, we're in a position to put things back to the original intent. (Note that the hotel tax has increased significantly since it was originated, so this only sets aside 1.5% of the whole tax.) Furthermore, since this set-aside is really a set aside of the Hotel Tax, it is just a teeny-weeny set-aside on a dedicated funding source.
Fine. Yes.
MY VALUES:
I recommend reading all of this (it won't take that long!) to understand how I think. That way you'll have a sense of how to asses my recommendations for yourself.
I'm basically an idealist, an optimist, and a humanist.
My opinions come from my experience in local politics over the past 23 years & the tons of candidate interviews I've done as a Board member (& long-time President of)) of the San Francisco League of Conservation Voters (SFLCV) & on the Board of Directors of the SF Bicycle Coalition (SFBC) & all the lobbying I've done at City Hall, etc.
I don't get a dime for this. I'm a software engineer by day and a political activist in my spare time.
The three biggest "norths" of my political compass are environmentalism, social justice & good government (reform type) issues.
While my views are definitely shaped by my activities in the SFLCV & the SFBC, my endorsements do NOT represent the views of either of those organizations.
I use the term "progressive" a lot, as something I value. In SF, that has historically meant a combination of classical liberal Democratic politics (equity – social, gender, racial, diversity, a sense that government can & should play an important role in solving society's problems) plus environmental values (sustainability, long-term systematic thinking) and neighborhood level populism (tenant's rights, ethnic and socio-economic diversity, populism vs. corporatism).
I try to be aware of my biases, here are few that come to mind:

Poorer before richer when considering fairness issues: it's best if something is fair, but if someone has to get screwed, make it the rich person, because society always favors the richer.
The more money a local campaign has, the more questions should be asked of it: if a campaign has a lot of expensive media ads, mailers, and etc – why? It might be fine, but the more money, the more questions as to why.

In some of these races it is a matter of picking between flawed options. 🙁

Ballot measures are a REALLY bad way to govern:

Most of the things done in ballot measures SHOULD be done in the normal legislature, where they are easier to fix if they turn out wrong: You have to use a another ballot initiative to change or fix something that became law by a ballot measure, whereas the legislature can amend or fix any of their laws whenever they want.
Another problem is that you have to boil complex issues down to yes/no votes – which rarely is a good idea. But this is what we have, so keep in mind that some good ideas make bad ballot propositions & a bad ideas can sound good in a ballot initiative because the devil is often in the details. Also note that these measures are often grey – there is often a lot of balancing going on.

90% of my experience & knowledge is about local San Francisco issues, so state issues are a little greyer for me unless I say otherwise. Thus, for state stuff, I try to do a lot of reading and research from the sources listed below & anything else I can find.
Just like you, some of my opinions come from listening to those I trust, or tend to trust. Organizations like the ones listed as "bedrock" below get more credence, as well as politicians I support and believe in. Obviously this is dicey, nothing beats first hand knowledge and analysis, but that just gets us back to why I think ballot measures suck…
Sources:
My best sources are personal experiences, and interviews and lobbying I've done with the SFLCV & the SFBC. But the limits of this are pretty obvious. I have very little direct experience with state issues, so below are some of the sources I use & a bit on how I arrive at my endorsements.
The first source for SF stuff is the official SF Voter guide & for California stuff, the State Voter guide. I like to read the pro and con arguments and also note who is writing them, as that often tells you at least as much as what they say. Also the analysis & explanations are critical. Dig in!
Ballotopedia: A wiki for ballots & elections! This is an incredible resource! I donated & maybe you should too!
Some of my bedrock sources are:
For state issues in particular, I really like to look at the various larger city newspapers. I know the most about the SF Chronicle's bias – I don't trust them much on local stuff (they tend to be more conservative than me), but on state stuff I like to hear them out. It is also worth checking the other state papers like the San Jose Mercury News, the LA Times & the Sacramento Bee. Sadly, most of these are behind a paywall, but often you can read a certain number for free. (They should all make their endorsement editorials free as a public service.) Ballotpedia often has good links to the various newspapers as well.
I also really like reading these two slates:
SPUR (a.k.a. San Francisco Bay Area Planning and Urban Research)
Both are great, and I appreciate that they wear their biases on their sleeves. The SFBG is super progressive & occasionally rabidly so, but I tend to share a lot of their values & appreciate what they bring to the table. SPUR is decidedly centrist and good-governmenty. I particularly enjoy their commitment to sound policy, their clarity of thought, and their thorough write ups – I'd love to have the time and energy to do a slate as well as they do!
Another great slate is the one done by The League of Pissed Off Voters. I've never liked their name (who can sustain angry for so long!), but I like hearing what they have to say. They run the risk of getting mean-spirited and absolutist, but they do their work.
Finally, several of my friends do slates I really appreciate & there are a few others I check as well, when I find them:
Extras:
Where To Vote:
If you need to know WHERE YOU CAN VOTE: You can find your polling place HERE.
Oakland & San Jose:
So, I don't pretend to know the ins and outs of Oakland or San Jose politics (If you have sites you like, please put 'em in the comments!) but here are some websites I really like. Note these won't help you with candidates, but they will help you with initiatives.
Older 'Deep Slates:
I believe I've been doing the 'Deep Slate since sometime in the '90s. You can read all the ones I've saved by clicking here – it gets a bit dicey because before 2012, they were email only (not blog posts), so I've posted the email versions I could find.