Chubby. I hate being chubby. And yet, that has more or less been the word for me for most of my adult life.
Sometimes the word is slightly kinder, sometimes slightly meaner: A neighborhood blog once described me as "jolly." ACK. My relatives in India would often generously choose "healthy." When trying to decide if I was attractive, I'd go with "robust." My Dad, on the other hand, ever the voice of compassion, would go with "fat." My scale, going off body mass index calculations, says "overweight" at best and "obese" at worst, and while that is a little ridiculous (and science agrees), you get the picture. Too Much 'Deep is the norm more often than not. 
And then in February of this year, I had to coin a new phrase: I had hit 'DEEP MAX, the most 'Deep EVER RECORDED! 218 lbs! GAAAAAAAAAAAAAAAAAH! 😱😭😵😲 GAAAAAAAAAAAAAAAAAAH!
For some perspective, I'm 5' 11", and in my book, 190 lbs is "Good", anything less than 200 lbs is "OK", and 205 lbs or over is "Oh lordy NO!" I would have given anything to be merely "chubby" again. Something had to be done, and yet I had little hope.
When it comes to my weight, I feel constantly mired in failure, and for good reason: my weight seems to only ever climb, and my efforts to combat this fact always seem to fail. Amidst the despair, I'm left in the crush of a desperate need to fix it and a certainty that nothing ever works. Yep, it sucks.
And yet today, 3 months after 'Deep Max, I'm actually excited about my weight. WHAT?! Seriously, for me this is a big deal. I have found something that, at least for now, is working, and working amazingly well. And more importantly, I think it might work long term. And most importantly, it is more fun than it is hard. Whoa.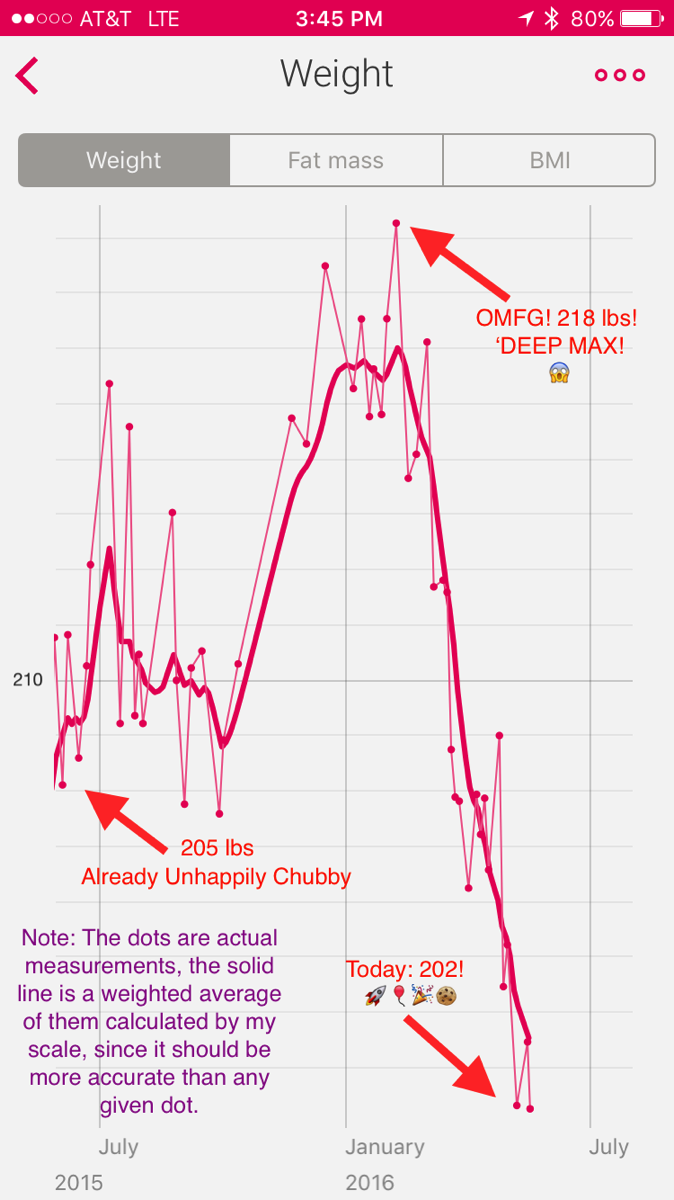 My Weight Since Last Summer
(from my Withings smart scale)
 
So, if you're at all interested, read on. I think everything I'm doing should be applicable to most people, even if you're not interested in the tech part1.